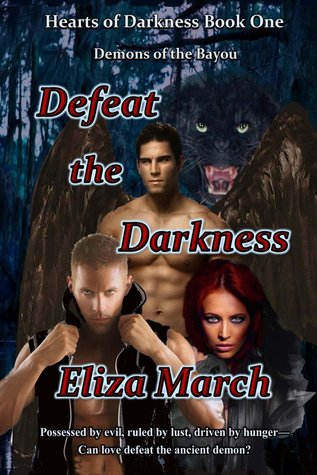 Welcome to the dark side of passion is the theme in Ms. March's latest paranormal erotic adventure. There are plenty of opportunities for fans of erotic romance to experience the thrills and chills beneath the sheets but the tale's suspense and drama is revved up by a dark and sinister plot with twists and turns to keep the pages flipping.
The author initiates a reader to a very complicated relationship dynamic between three best friends, Shelby, Max and Kyle. They love each other on various levels: long term, growing up as best friends, the new guy on the block that clicks with both, friends with benefits – the author had the characters revealing all sorts of ways these three love each other. The result is a depth of being, friendships that survive as each of them grow in their careers, in their lives and as they follow their dreams. Unfortunately for one of them, their dream is about to turn ugly.
That's when the darkness shows up. The author explored that twisted, deviant and debasing period of Kyle's life when he had to take a stand for what he believes in, and pays the price. I won't mince words. Those scenes with the villain disturbed me. I want to warn readers of a few scenes during one of the early pivotal points in the story. I believe they can be classified as torture and rape. I thought about labeling it as forced seduction but the recipient fought it, it was against his will and he was angry. But it's not gratuitous. There is a purpose to the evil deed and an even more powerful revelation and a credit to Kyle's resistance. It lays the groundwork as to why the villain is so focused on achieving their agenda with the hero as the means to an end. One of the saddest tragedies of the whole story is what this does to his friendship between Shelby and Max. It's a major conflict which dominoes throughout the rest of the book.
I started connecting to the characters more towards the point when all three were faced with running the gauntlet. It was at that time that I found the best dialogue, the most solid character interactions and the most interesting and fascinating plot points and revelations starting to occur. The pace really picked up for me and I couldn't put the book down. Clues and facts were falling in place and many left me wide eyed and captivated.
What surprised me was how the author chose to have everyone saved. Although, I'm not sure 'saved' is quite the right word. It was actually a kind of bizarre and wild idea to fix everything the way Ms. March did. Some readers might think it over the top and maybe even a bit contrived. I got a kick out of it and in an oddball way found it funny. What are the odds they'd all become friends in the first place and then Wham! they become 'super friends'? I quite enjoyed that plot twist.
Secondary characters served many purposes, whether they were onscreen a short time or popping up here and there throughout; everyone helped the heroine and heroes get to where they needed to be. I think the world building in the beginning, using the rogues and the indigenous people, was stilted. It didn't flow well for me at first but I advise readers to stick with it. The author does have her characters emerge from that rocky start in glorious fashion. The secondary characters later on truly enhanced the tale, the plot movement and added extra layers of interest, excitement and enjoyment.
I also enjoyed the exploration of Max and Shelby's relationship, then Shelby's and Kyle's. It became apparent that Shelby is the cream filling between Max and Kyle's Oreo cookies. Erotic romance fans will have a lot of opportunities to watch them learn to express their love physically.
Defeat the Darkness is not a lightweight read. It packs a punch in both plot and character dynamics. It's not a book that is stuffed with fluff and sweetness – it's tart, tantalizing and at times disturbing. It has a solid story line and a complicated romance to go with it which concludes with a fitting happy ever after for the trio. If you like your paranormal romances to have bite, sauce and vinegar, and surprises, then give Defeat the Darkness a whirl. There's a lot to like.



Editor's note:
This article was originally published at Long and Short Reviews. It has been republished with permission. Like what you read? Subscribe to the
SFRB's free daily email notice so you can be up-to-date on our latest articles. Scroll up this page to the sign-up field on your right.