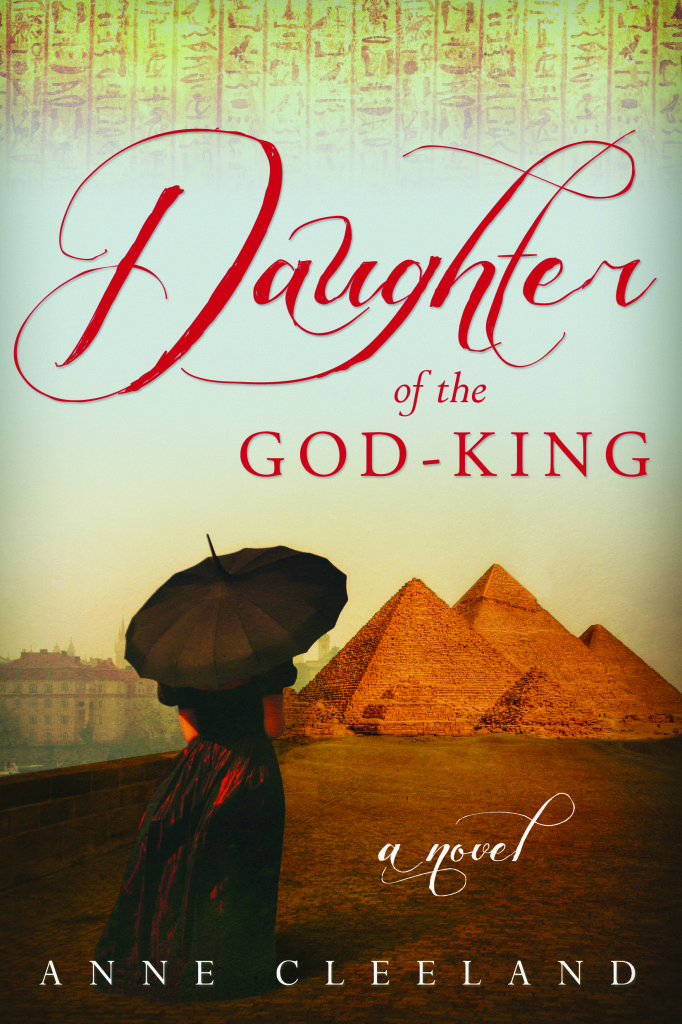 Hathor Blackstone chafes at her confinement in Cornwall, while her parents explore tombs a world away in Egypt. When the unthinkable happens, Hattie must travel across the globe. When no one is as they seem, who is a girl to trust?
In Daughter of the God-King, we meet Hattie Blackstone, daughter of the famous Egyptologists. She has spent her life in isolation in their home in Cornwall. Now coming of age, she grows weary of visiting neighbors and having everyone else tell her what her parents are up to. With much moxie for a proper young woman, Hattie and her companion Bing find themselves in the middle of a great mystery. Hattie's parents have disappeared and it is up to her to find them. As Hattie discovers the best laid plans in life are often foiled, she and Bing narrowly escape and find themselves on a ship bound for Egypt.
Hattie and Bing travel across the globe, dodging disaster at every turn. The trip is fraught with politics, intrigue and a very dashing young man known to Hattie as Daniel Berry. When Robbie, Hattie's childhood friend appears on scene, the tension ratchets up as Hattie realizes it is not the dashing Mr. Tremaine she is longing to be with, it is the secretive Mr. Berry. Politics and spy games become more complex and Hathor is plagued by a nagging sense that there is no one she can really trust; except for her earns while companion Bing and her new found love, Mr. Berry.
This Regency style novel is perfect for fans of the Parasol Protectorate series, Indiana Jones and anyone who loved The Mummy movies. Author Anne Cleeland takes you deep inside the complex inner workings of a post Napoleonic world where there was danger at every turn. Would the gentleman try to escape his exile and make another play for power? Are Hattie's parents dead? Were they somehow involved in a caper that would shame the family by its treasonous implications? Hathor begins to question every fact about her life and when an unexpected mystery is revealed, the consequences may be more than she can bear. Mr. If-That-Is-His-Name Daniel Berry is a character that matches Hattie for wit and keeps her at the top of her game.
The humor in the novel was wonderfully handled. The fact that Hathor is the daughter of two Egyptologist parents and hates anything to do with the subject while her companion Bing is fascinated with it caused a fit of giggles now and then. The sexual tension between Hattie and Daniel was lightly done, just skirting what was proper for the most part, with a couple of flaming kisses thrown in for good measure.
One of the other things I enjoyed about this novel was the emersion in the Regency period and fresh, new feeling about the archeological digs. Not only for the politics and spy novel aspects, but the mannerisms and speech of the characters; every aspect of the time comes through. From the hushed atmosphere of the tombs to the double innuendos during a card game, I found myself enchanted and eagerly turning the pages. I would not hesitate to read another book by this author.
All and all, Daughter of the God-King was a book that at first started a little slow, but after I understood what was happening, picked up rather quickly. At the onset, there was a lingering feeling that I was missing something, but as the story developed, that went away. Hattie is an unforgettable character with enough spice to get her through any situation and I admire characters that can find ways to get around anything. Hattie's entire world gets thrown on its head, but she comes up swinging. Daniel is a sexy spy-hero and I couldn't think of a better match for Hattie. When one door closes, a window opens and Daniel is there holding it open with open arms.
If you are a fan of Regency period novels with a penchant for Egyptology then this book will be just the thing.



Editor's note:
This article was originally published at Long and Short Reviews. It has been republished with permission. Like what you read? Subscribe to the
SFRB's free daily email notice so you can be up-to-date on our latest articles. Scroll up this page to the sign-up field on your right.