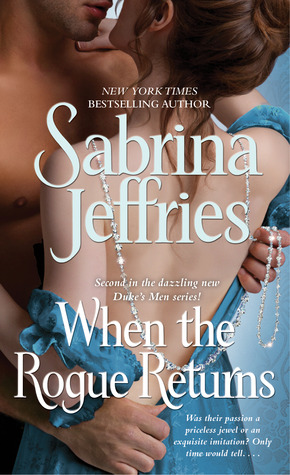 I love it when a plan comes together. I enjoy it even more when the plan is against someone who believes that they are unstoppable and who have no compunction in using people to get their way. What this one person did many years ago ended up destroying the lives of two young people in love and this story is how they get their lives back. It's also about how they relearned to love the people they've become and like the mighty phoenix, rise from the ashes of the past to embrace a glorious future. It's the journey of getting from A to B that makes this book an amazing read.
I absolutely adore the heroine, Isa, in this tale. It's because of how Ms. Jeffries wrote her character that made the difference from a humdrum run of the mill type historical heroine to a woman I can respect, cheer for and be impressed with. Isa is not weak, meek or easily lead. At least, the woman she became isn't. A reader is first introduced to her when she was innocent, trusting and easily manipulated. Even though it was a drastic measure that set her apart from the people who destroyed the life she had, she's made her own life, on her own terms and doing a deuced fine job of it. The heroine, when the story really gets going, is woman fully grown and wise to the world. She doesn't suffer fools gladly, has gained wisdom beyond her years and is a person worth knowing. In short, she's worthy of the hero.
If anyone has been reading that past few books that Ms. Jeffries wrote, they might remember Victor. He's come a long way and his story is one I looked forward to reading. In this book, I got to see him as he was early in life, and then when he and Isa are reunited, I saw a man also fully grown, come into his own but for the hero, there's a lot of bitterness, anger, determination and obsession driving him. He's also a man of lethal talents and he intends to right a wrong. Except the wrong he intended to right isn't the one he ends up tackling. That plot twist was divine and thoroughly exciting.
When the book has the two protagonists finally come together and truths are revealed, the book could have fallen apart right there. Why? Because that was the pivotal moment where the author could have had Isa behave as many authors do – and I would have thrown the book at the wall. Instead I was cheering and grinning and I would have given Isa a bear hug if I could have done so. Isa stayed strong. All the lessons she learned, all the beliefs she had and the love she had for Victor gave her a strength that not only did she not shy away from, but used it to good effect. If ever there was a perfect moment in time for a lady to use profanity, it was used to the ultimate good. I felt like saying, "You go girl!" ::fist pump:: I do not believe I have ever felt prouder of an historical heroine as I did at that moment. From that scene on she was my girl. That was how a heroine should be and in my mind, Isa has a theme song, Stand by Your Man by Tammy Wynette. Totally awesome.
Secondary characters are key. Everyone who was in Victor's or Isa's life played a role in helping them come together and in dealing with, in a most exciting and effective way, the villains. One of the villains was especially cruel because of the kind of betrayal perpetuated. There was a certain wisdom in how Ms. Jeffries had Isa and Victor choose to deal with it. In a way, it was very noble to give a choice when they'd not given any to Isa or Victor. Showed who had real class and honor.
After being away from each other so long, I was thrilled with how the author handled their rekindled passion. It was like they had to seduce each other all over again, but this time around, there is no blushing bride and awkward groom but a woman and man who know what they like and aren't shy about going for it. It was steamy, charming, spicy and delightful all at once. The flowers were an over-the-top gesture that just oozed romance. I thought it rather sweet.
The culmination of the plan was very exciting and dare I say it, set the hook for the next of the Duke's Men to fall into love's trap. And if the heroine is as feisty as she was in the scene she barreled into, I'm going to be an impatient reader waiting for it. It promises to be very entertaining indeed!
Some readers might think that the risk of telling as many people as Isa did about her whole sordid past and not have even one person think badly or act against her is a trifle too goody-goody but as far as I'm concerned it stood as a testament to the life she'd lived, the woman she'd become and the respect she'd earned by interacting with them. I didn't think it was unbelievable at all.
Ms. Jeffries has a solid reputation of delivering a high quality story about well-developed characters and a knack for making them a delight to know and read about. When the Rogue Returns is a reinforcement of that well-earned accolade. This is a thoroughly entertaining historical romance that new and old fans should absolutely try. I loved how the author wrapped up the "happy ever after", making my reading experience complete. This book is definitely getting a high recommend from me.
Editor's note:
This article was originally published at Long and Short Reviews. It has been republished with permission. Like what you read? Subscribe to the
SFRB's free daily email notice so you can be up-to-date on our latest articles. Scroll up this page to the sign-up field on your right.