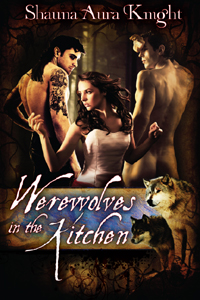 Be careful what you fantasize about, it just might come true.
Ellie jumped at the chance to do a work/study sabbatical at the SpiralStone retreat in an effort to find direction and maybe a little enlightenment about the universe. A self-proclaimed physics geek, Ellie loved to study and experiment. Up until recently she enjoyed her position at the university but an episode with an employer had left a bad taste in her mouth and sent her running for some peace and quiet. She thought she'd found it until she met the two hot guys who worked the dining area of the retreat. Too bad hot guys never gave this geek a second look. These aren't two ordinary hot cooks and they see something in Ellie that will give this scientist a real reason to question what she thinks she knows is truth about the world around her.
First off, keep in mind that is a short story, a quickie. And it's erotic. There isn't a whole lot of room to world build. I didn't expect, and certainly didn't want, the author to load it down with background details. Ellie has a family that isn't exactly close and a self-image problem. One of the guys did something that got them in trouble and sent to the retreat for their own safety. That's the background basics. The plot of this novella is centered on Jake and Kyle finding a way to get closer to Ellie. They know she's interested, they can both sense it and smell it but, it's going to take some finessing and convincing to get Ellie to admit to it. When they do finally get her where they want her, it's explosive. Seriously, the sex is hot in this one no matter if they take her together or separately.
There were a couple of things that were a little hard to buy in this story. She's supposed to be a physics geek, a scientist, but other than over thinking why the guys would be into her and how she was going to handle being with two men, she could have been any other non-science type. The other thing that I didn't feel like I quite understood was the whole reason why the guys had been sent to the retreat. I got that it was in a neutral zone and they were supposed to be safe from a rival pack there but then a little skirmish happens and then it's over. I guess that whole scene felt a little rushed. It had the purpose of getting Ellie to admit to what she wanted but it was almost too convenient. Also, I was expecting at least a little M/M action. It's hinted at, they tease her with the possibility, but then… nothing. Honestly, I was able to look over her supposed profession and the guys issue with the other pack but the lack of bromance when it was teased was probably the most disappointing part.
I did like the characters individually and as a grouping. Did I mention the sex is pretty hot? Ellie is sweet and I did buy that she couldn't see how Jake and Kyle could want her individually much less together. It made their first time together that much more anticipated and frantically tense but in a good way. I also liked both Jake and Kyle. Hot inked werewolves who sense their mate… what's not to like?
Read this book for what it is rather than with expectations of the next great novel. It's hot. It's quick and it's satisfying. The characters are easy to cheer for and the setting was interesting. Readers who don't have a lot of time but need an erotic paranormal ménage fix, this is one I'd suggest they go for.
Editor's note:
This article was originally published at Long and Short Reviews. It has been republished with permission. Like what you read? Subscribe to the
SFRB's free daily email notice so you can be up-to-date on our latest articles. Scroll up this page to the sign-up field on your right.