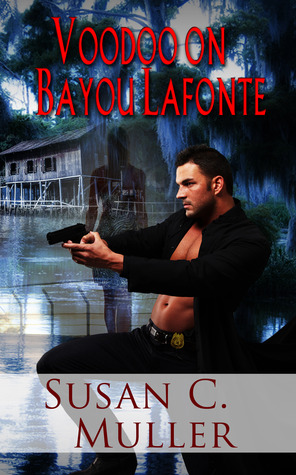 Missing girls, suspicious pregnancies, corrupt cops, drugs, and a creepy voodoo priest all come together in an intriguing plot that keeps you guessing what happens next and who's behind it all.
Remy left Gabby and their daughter, Adrienne, to find a better job and a more secure life for them in Houston. He thought Gabby would go with him, but she didn't. Both are equally hard-headed and unwilling to admit fault in their break up years ago. They've spent most of Adrienne's life apart, but now they'll have to put all those hard feelings aside and work together to find her.
Gabby may still hold a grudge and blame Remy for deserting her with a small child to raise, but when their daughter disappears, he's the first one she calls. Despite their past, she knows Remy will stop at nothing to find out what happened to Adrienne, good or bad. Gabby is certainly not perfect herself, but she's done the best she can as a single mom in a town with very few resources and even fewer jobs. As she and Remy work together, she begins to question the decision she made all those years ago. It was so much easier to label him as the bad guy when he lived several hours away and wasn't around to defend himself. Yes, he'd left, but he'd wanted her to go. Was her unwillingness to leave Louisiana the real reason behind their divorce? Perhaps he wasn't the only one at fault after all.
Though he tries to deny the feelings he still has for Gabby, Remy quickly realizes he loves her as much today as he did 18 years ago. As they work to solve the mystery of Adrienne's disappearance, he starts to see a side of Gabby he never knew. She's smart, resourceful, and stronger than she gave herself credit for. While he applauds this new woman she's become, his guilt questions if he'd left her no choice. After all, he'd refused to return to Gabby and Adrienne if it meant living on the Bayou. Despite his financial support, raising a child alone must have been hard. Before long, he begins to wonder what he'll do when they find their daughter. Should he go back to his old life or can Gabby and he try again? He knows what he wants, but his wounded pride isn't quite ready to open his heart to a second rejection.
Even with its paranormal elements, Voodoo on Bayou Lafonte is one of those stories that feels real. I love paranormal elements, and as much as I long to be swept away by a sexy werewolf or a sparkling vampire, I know the likelihood of that happening is pretty slim. Ms. Muller has woven some dark history and deep-rooted beliefs into a story with tangible elements. There's something about these kinds of tales that gives me chills because as I'm reading them, I know this is something that could happen. I could pick up the newspaper tomorrow and read an article detailing this very same thing. This sense of realism makes the story that much more intriguing for me.
The characters are very well written and easy to love. The additions of secondary characters are well paced and add pertinent depth and detail without detracting from the hero or heroine. Every person has a purpose and aren't simply thrown in to add words to a page and length to the book. Each new plot point serves to move the story along at a good pace without the addition of unnecessary fillers. I never felt bored or indifferent; each new page held my interest as much as the last. While this is a romance, there's minimal detail of the sex scenes and no explicit foreplay, so lovers of sensual reads shouldn't find anything offensive. Anyone looking for a little more sexy detail won't find it here. No, this story is more about the emotional turmoil of two parent's nightmare—a missing child—and the steps they take to find their daughter together.
Overall, Ms. Muller has penned an interesting story that's sure to touch your heart. I thoroughly enjoyed it from beginning to end and will certainly put it on my keeper list. There are some books that are simply meant to be read and enjoyed, then filed away. Then there are others you envision on the big screen. This is one of those stories that will likely stay with you long after The End.
Editor's note:
This article was originally published at Long and Short Reviews. It has been republished with permission. Like what you read? Subscribe to the
SFRB's free daily email notice so you can be up-to-date on our latest articles. Scroll up this page to the sign-up field on your right.