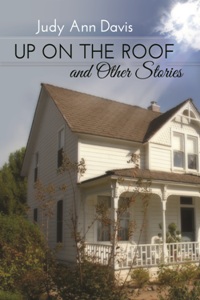 There's more to thriving in a small town than might first meet the eye.
Just when I thought I knew where Ms. Davis is headed with certain plots she steers it into entirely new directions. The appeal of this book lays in her ability to transform even the most ordinary experience into something special.
"Up On the Roof" is a good introduction to this collection. David's father, Henry, keeps climbing onto the roof in order to have conversations with God. The problem is that Henry isn't as young as he used to be, and David and the rest of the family are genuinely concerned about the patriarch's safety during these conversations. The characterization in this tale is wonderful, especially when it comes to how the younger family members relate to one another as they attempt to figure out how to get Henry back on solid land.While I found the conclusion a little hard to believe due to how quickly it came together and how certain characters reacted to it, the final scene did provide a sense of closure for questions that were asked earlier on.
There were some stories that I had trouble understanding. "The Amulet" begins with a young woman on a road trip with her boyfriend that makes a stopover at a flea market. I liked Greta's flashbacks to her childhood, but I had trouble connecting those experiences to her current life. She seems conflicted about the parts of her heritage that she wants to hold onto, and I never knew how her mind would change on the topic from one scene to the next. The premise was intriguing, but the ending never tied up all of the loose ends from earlier on in the plot. This pattern was repeated in several other tales and it is the reason why I gave this anthology a 3 star rating.
In "Holiday Bonding" Raymond Harper and his wife Celeste are celebrating their first Christmas with their four young adult children. Raymond wants to recapture the magic and beloved traditions of previous holidays, but coordinating the schedules of so many adults is difficult. It isn't easy for anyone to readjust interpersonal boundaries as children become adults, and Ms. Davis captures the growing pains of this experience quite well. I especially enjoyed the conversations between Raymond and Celeste in the first scene because of how much it reveals about their relationship now that they are empty nesters.
Up on the Roof and Other Short Stories is a solid collection of contemporary and historical mainstream fiction. It's a good choice for anyone who likes reading about life in small, rural communities as Ms. Davis' snapshots of their subcultures are quite well done.
Editor's note:
This article was originally published at Long and Short Reviews. It has been republished with permission. Like what you read? Subscribe to the
SFRB's free daily email notice so you can be up-to-date on our latest articles. Scroll up this page to the sign-up field on your right.