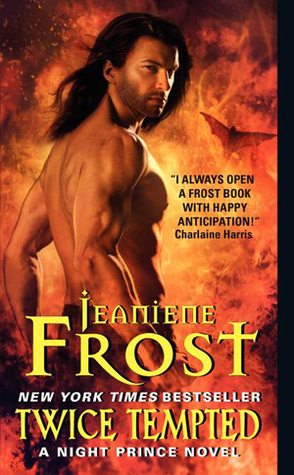 The experience of reading this book is like being a dust bunny in the path of a super suction vacuum cleaner – once I got started, reality fell away and the only thing that existed was Vlad and Leila. There was no escape.
I had read Once Burned, the first book that introduced me to Vlad and Leila, and I was astounded as to the originality and the quality of writing that took place in that novel. It ended with a not so happy type of cliff hanger so I was both cautious and curious to start Twice Tempted. I didn't know where Ms. Frost was going to take her characters – further estrangement, using that as one of the plot conflicts, or advancing their romance to the next step, fighting and screaming all the way. I'm thrilled to report that this story is written just as powerfully with an almost absolute perfect balance of suspense, drama, intense passion and a delightful and thoroughly captivating culmination of their courtship and romance.
Of course, Vlad is not a typical hero. In fact, he is a cold blooded killer. His sense of justice is extreme and his methods of punishment are medieval and brutal and in the beginning Leila was horrified that he wielded his weapons with so much gusto. The hero is a very scary man. However in this book, told through Leila's eyes, he's so much more. In fact, that is how this novel is told – through Leila's first person point of view and Ms. Frost never missed a beat. Usually I find first person POV hard to get into. Not so with Twice Tempted. I was solidly in Leila's head but because the author has such a strong command of dialogue, expressions, descriptions and mood setting, it was a smooth yet commanding read and I reveled in it. The author used the secondary characters to give Leila the clues she needed to understand what was happening or what was about to. When she understood, I understood. The author's expertise in crafting her characters in this book was clear and bold.
If readers missed the first book, Once Burned, they won't get too lost in reading this sequel. Ms. Frost did play catch up at certain points to make sure a new reader understood the ramifications of certain choices made by the characters in a few scenes. Since I'd forgotten some of the finer points, it was a good refresher for me and I think just right for new readers too. One thing is for sure, some of the secondary characters mentioned in both Once Burned and Twice Tempted were from the other series that Ms. Frost is famous for. I've never read them but after my experience with these two novels, I'm going to be looking into getting all the back books. I can only hope my purse doesn't scream OUCH! too loud since it looks like there are quite a few. If the quality is anything like reading Vlad and Leila's story, I'm going to be a very contented reader – and broke.
The hardest thing about writing this review is avoiding the spoilers. There are so many things I'd love to share! I'll give hints: the explosion, the betrayal, the villain, the cool thing about the flowers, the boat, the explanation of ghouls and what happens to poor Maximus. And the rats! Oh good gravy, the rats! That's just for starters. Twice Tempted is simply amazing because it's meaty, diverse, enthralling and intense and is a real page flipper.
Twice Tempted blew me away and everything about the heroine totally rocked! Yes, I liked the dynamics between Vlad and Leila, and Vlad is one sexy, arrogant and complex hunk, but Leila's character impressed me 100%. There were three times that the author could have written her actions as a typical cliché but instead she surprised me, pleased me and garnered my respect. The paragraph of introspection where Leila ruminated over life and living was a breath of fresh air and what came afterwards pushed all of my happy buttons. Twice Tempted is going on my keeper shelf just like its predecessor, Once Burned. I know there is one more book coming because of what was discovered in the last chapter of Twice Tempted and I guarantee it's going to be an auto-buy. Ms. Frost is now on my short list of must read authors. She's earned it with these Night Prince novels. I'm very happy to recommend this book, and indeed this series, to all paranormal romance fans. It's high caliber writing.
Editor's note:
This article was originally published at Long and Short Reviews. It has been republished with permission. Like what you read? Subscribe to the
SFRB's free daily email notice so you can be up-to-date on our latest articles. Scroll up this page to the sign-up field on your right.