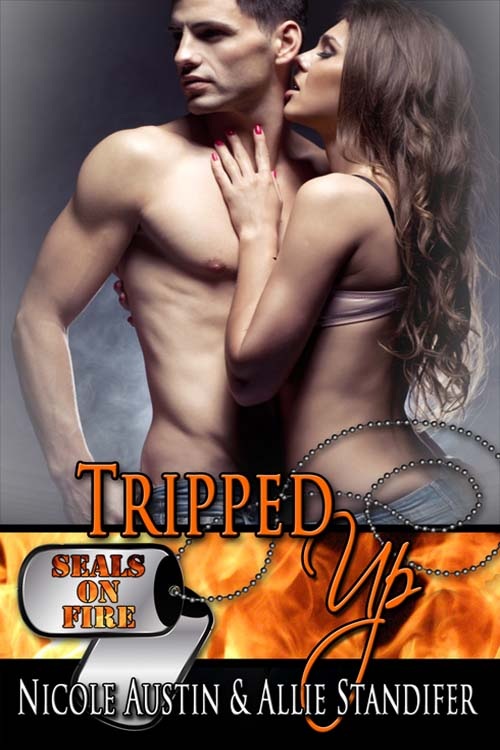 Karen James is bridesmaid to her friend, Syndra, and has been given the task of "babysitting" Garrett "Trip" Trippington, the SEAL team's demolitions guy. Trip is staying at Syn's apartment, literally across the shared hallway from Karen. Half the team appears determined to set Karen up with their single friend. The wedding couldn't be over fast enough for Karen's peace of mind. Setting up the scene for a photo shoot, Karen finds herself carried away a bit with the preparations, and ends up meeting Trip for the first time in a somewhat compromised position. Trip had been reluctant – to say the least – about being set up. The last single man standing, he's not planning to join his buddies tying the matrimonial knot. But Karen gets his blood pumping, and soon Trip realizes he's falling faster than he'd ever imagined possible.
If you're looking for a smoking hot read, full of a confidant, brash SEAL and a full figured heroine with a strong backbone, this is a good place to start. I found the sex sizzling hot and definitely something to be lingered over. This is a smoking read that you'll want to keep for yourself and only share with a select few friends.
I was a little disappointed that in the beginning Karen was so brave in her thoughts and fantasies, but still seemed outwardly quite emotionally tender and under-confident in herself. She had some wicked and lush desires but fully expected to be turned down. In some respects I can feel sympathy for Karen, as a larger woman being rejected is difficult to keep up a strong front, but that doesn't have to mean expecting a negative response every time, particularly when Trip's actions were all about his desire for her. I guess I'd hoped Karen could look past her own insecurities and judge Trip by his words and deeds, not her past issues. Having said that Karen is not some wimpy little miss who shakes at every turn. Even at their first meeting she verbally gives back to Trip as much as he gives her, and in all other respects she's a strong, independent woman. While I understand her self-image problems, it would have been refreshing to read about a curvy woman who owns her sexuality from the beginning and is brave enough to not let past history colour her seeking out a new bed partner. Karen's confidence issues didn't detract too much from my enjoyment of the reading, but it did frequently make me pause and wonder. That stopped me from totally devouring the book without hesitation.
I felt this co-authored book was written very smoothly. I couldn't really tell where one author wrote and the other took over – and to my mind that's the best kind of dual writing. I really enjoyed reading things from Trip's point of view, not just Karen's. It rlet me see into his mind and I love that in a book. I found the sex mind-blowingly good, but not offensive. It is graphic though, and prolific – so that might need to be taken into consideration by other readers. I would have enjoyed a bit more plot outside of Karen and Trip getting together, but having said that I did get invested in both characters very quickly. The two of them are complex enough that despite the lack of external plot I still enjoyed turning each page and wanted to see them come together and build their relationship.
A character driven book, full of smoking hot sex and a strong emotional relationship, I think this will appeal to many readers. This book has also continued my love of a good SEAL romance novel.
Editor's note:
This article was originally published at Long and Short Reviews. It has been republished with permission. Like what you read? Subscribe to the
SFRB's free daily email notice so you can be up-to-date on our latest articles. Scroll up this page to the sign-up field on your right.