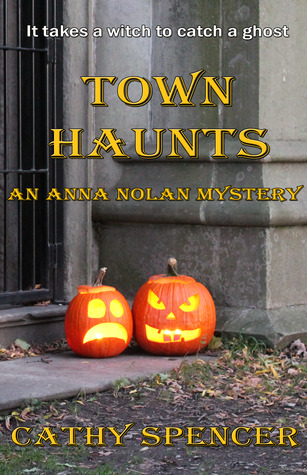 When dark things haunt the streets just before Halloween, will Anna be able to solve the mystery of what lurks in the shadows?
Anna and her gang of sleuths are back in action in the second in the Anna Nolan series. When Sherman, the local cemetery caretaker hears what he believes is his wife calling to him from beyond the grave, he is convinced something isn't right about his wife's death. Enlisting the aid of Tierney, a New Age healer and witch that has just arrived in town, he requests a séance. Anna and the girls aren't so convinced. There is something fishy about Greg, Tierney's brother and the re-emergence of Henry, a man with an axe to grind isn't helping matters. When one of the ladies is found attacked outside of her apartment, the plot thickens.
Introducing the book with Sherman in the cemetery was a good lead in, followed by Anna and her motley crew. The diner and small town feel of the place is very cozy indeed. Enter newcomer Tierney and her overly suave brother and tensions get a little high. Who is this witch? Can she help Sherman or is she all show and no substance? When an impromptu coven is devised from the town ladies, things begin to get a little strange. This was probably the point where I started getting a little frustrated by the book. Initially, there were a few editorial issues that could have been resolved, but as the play on witches unfolded, my interest waned. Usually I love a good story about witches, the paranormal and ghost hunting. In this case, the insta-coven kind of took me by surprise. Who is this woman to come out of nowhere and pronounce a group of unknown women as a coven? Building a group like that takes a while.
As I read, the mystery was lukewarm. It flowed evenly, but my suspension of disbelief had already been tested. Anna was a character that I wanted to connect to, but there was nothing about the group that made me really care about where the story was going or why. Getting more into Anna's character or maybe even Tierney's would have been interesting. I wanted to know more about the town, the emotions playing across the characters and especially a deeper connection to Anna.
The series has a lot of potential. Mysteries are a fun way to pass the time and if given the chance I would most likely give this author another try. There is nothing like spending an afternoon with a relaxing light novel to erase the real world. This story had that element and I see good things coming from Ms. Spencer.
For a spooky read that will get you in the mood for some fall weather and a maybe a séance or two give this book a try.
Editor's note:
This article was originally published at Long and Short Reviews. It has been republished with permission. Like what you read? Subscribe to the
SFRB's free daily email notice so you can be up-to-date on our latest articles. Scroll up this page to the sign-up field on your right.