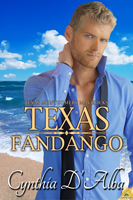 An exotic location, a young girl's crush all grown up and two consenting adults make this short love story. It is a story which grew on me after the first, more wobbly, third of the book and took me to a hot, pool filled land, despite the lashing rain outside. It is also, although part of the Texas Montgomery Mavericks series, readable as a standalone.
The wobbly start has no major stumbles, only odd phrases which jerk the reader from the tale a fraction. There are a few clichés such as '[He] didn't know she existed' but usually the issue is in the turn of phrase. For example. 'Her mind- followed by her gaze – rolled to the late afternoon sun outside'. There is nothing obviously wrong here but the phrases are awkward. Finally, I stumbled at the phrase 'an older man of seventeen' as an older man is usually someone creepy hanging around the younger crowd and seventeen is hardly a man, still a boy really. As D'Alba was using this phrase to show the passing of time from when KC Montgomery was eleven and her love interest was seventeen, a boy of seventeen would have worked better for me.
However, the main female protagonist – KC, or Kathryn Colleen Montgomery, is fully realised and in good style. She has a carefree, pioneering and sometimes philosophical spirit which is made clear in the narrative. She 'point[s] the hood' of the car towards her 'Thank-God-It's-Friday beer' and she is sure 'if this car could talk' she would 'collect valuable blackmail stories from her parents' dating days when her dad was the coolest guy in town and this was his chick-magnet car'. This not only sets the scene and shows more of her personality but fills in some back-story seamlessly and with brilliant efficiency.
KC is a woman I understood, even if she lives more dangerously and confidently than I. She craves girl time to sort out what to do about boys – 'she needed a trusted woman to call' – but her confidence is clear, despite her nerves, so when she later throws down the gauntlet for her love interest, Drake, it made sense.
However, Drake is not as fully realised and full a character. He is good in bed and has a few witty comments to his name but I did not feel like I understood all of where he came from and where he was going. He just happened to be in town at the right time, got dumped (again) at the right time and had a holiday ready for KC to jump into. He is 'sweet and loving to everybody', as a lot of romance leads are but I needed more uniqueness to truly enjoy their union on holiday; he was too bland.
Having said that, the siren bikini and pools of warm water, jets of hot tub bubbles and scenic, half nude beaches were a brilliant setting for some heated love making which was breathy to read and hard to put down, hitting the key highs of any romance tale.
Editor's note:
This article was originally published at Long and Short Reviews. It has been republished with permission. Like what you read? Subscribe to the
SFRB's free daily email notice so you can be up-to-date on our latest articles. Scroll up this page to the sign-up field on your right.