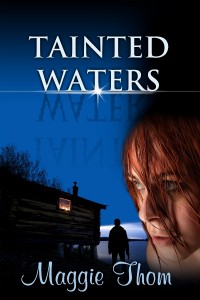 An intense ride, Tainted Waters unexpectedly kept me on the edge of my seat. I say unexpectedly, because it started out a little slow … I had to force myself to read the first few chapters because I was expecting an adrenaline rush from the start. I'm glad I was reading this for a review and not just for pleasure, because it meant I had to keep going through the slowish start. We're introduced to Sam, a woman who drifts aimlessly from job to job and really doesn't know where her place in the world is (to the frustration of her family) and to Keegan, who's only recently become acquainted with a grandfather he wasn't supposed to know, and who died unexpectedly.
As the book begins, Sam is fired for daring to write a story for the paper … we don't know what the story is about, but her boss has a fit about it. She and Keegan literally run into each other as she dashed out the door, desperate to go home and like her wounds.
Once Keegan starts to do some digging, though, things start rolling. It takes a bit to get a full head of steam, but when it does watch out, hang on to your hats and make sure you have plenty of time to finish the book because you won't want to put it down.
The author weaves a pretty complex mystery with its share of potential bad guys and red herrings. Odds are you won't figure out "whodunnit" until the end, and you'll enjoy the trip to get there. The characters are bold and interesting. But don't expect this to be a romance … it's not, not really, which is why I've categorized this review in the mystery/suspense category. Sure there are some sparks between Sam and Keegan, but that's not the driving force behind this book, nor it is particularly integral to the story.
So, overall, I really liked Tainted Waters. I may not have finished this had I not been reviewing it, and I would have missed out on a good suspense novel if I'd stopped. Do yourself a favor and grab a copy. And don't be tempted to put it down … once it grabs you, it won't let you go. Enjoy the ride. I did!
Editor's note:
This article was originally published at Long and Short Reviews. It has been republished with permission. Like what you read? Subscribe to the
SFRB's free daily email notice so you can be up-to-date on our latest articles. Scroll up this page to the sign-up field on your right.