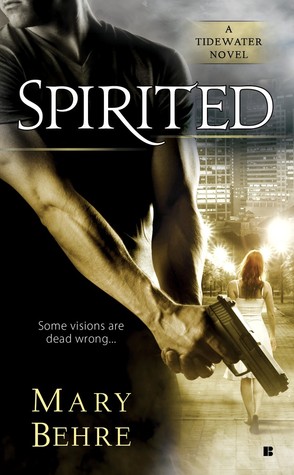 Ever read a book that was so suspenseful it left you shivery, so exciting that it left you hyperventilating? That can partly describe this amazing story called Spirited. One thing is for sure, I was blown away. Ms. Behre has an amazing capacity to draw in a reader with her characters and deliver an intensely entertaining and eye-popping read. I am in awe.
Spirited is the first book I've ever read by this author but I was so impressed by my reading experience, I will not only look forward to the next book in the series, Guarded but I'm going be looking for any previous books. If this is a sample of her usual style, I want more. Understand something. I don't think I've had a book take over me like the way this has done in a LONG time. Yes, I've enjoyed books, some immensely so, but to have a physical effect on my breathing and dry eyes from trying not to blink so I won't miss a second of the action, the jumpy feeling of wanting to know what happens next yet maybe afraid of finding out, but the burning obsession of having to know – to do all that to me? Now that is writing talent.
There are a lot of stories out there about so called 'ghost whisperers' and psychics and whatnot, but the author took a common paranormal theme and made it her own. I adored how she lead Jules, the heroine, from ignoring her gift to embracing it and using it to perform a miracle. That growth of personal acceptance was phenomenal. Ms. Behre imbued her characters with warmth, humor, honor, and distinct and interesting personalities. Every single person, dead or alive, played a key role in helping solve a mystery that seemed to get messier, more mysterious and intriguing as each chapter lead Jules to find her true love while solving the crime.
Finding true love while keeping a secret is hard. Keeping that secret when your true love might end up being a cop is almost a recipe for disaster. Seth is the hero and he really defines the word because he has some wonderful, romantic qualities. He's not perfect and he makes mistakes but he does a lot of things right and one of those is falling in love with the heroine. The journey is bumpy and is never ever boring. I got the biggest laughs right in the beginning when they first met. When Jules got an eyeful of Seth's sleeping attire I could not contain my mirth. That. Was. Hysterical! And little zingers kept popping up here and there throughout the story so it was a nice touch. Clever, actually.
Let's talk sensuality. The pages steamed from it. I adore a story with a sexy build up. The teases, the glimpses of heat, the yearning, the 'almost' moments that bring that passion to a fever pitch only to have life or a cold wind blow to pop the moment – that is the kind of romantic tale that makes reading fun. The anticipation builds not just for the characters but for the reader as well. Jules and Seth weren't the only ones happy when they finally did the deed. It was great!
Another thing that was powerful was the suspense of solving a mystery. The clues, the deaths, the race against the clock – it was gripping. Here's another thing about Spirited that I appreciated – the writing style. Every chapter ended with a plot twist, a cliff hanger, a surprise reveal, just something that hooked me and kept me wanting to know what happens next, who was going to learn what and would Jules ever trust Seth enough to tell him her big secret? How was that going to look like? Sound like? How was he going to take it? And is the good guy really a good guy? Oh man, there was one scene when I almost came off of my chair because I thought Jules had just trusted the wrong guy. It's writing like that which impresses me no end and Ms. Behre makes it look so easy.
Spirited is a must read book for fans of romantic suspense. I can't come up with one complaint or wish that something could have been done different. I consider it one of the most perfect books I've read in a long time. Its characters, dialogue, plot, editing, method of delivery and mastery of descriptions were everything I could wish for in any book, not just a romance. For readers willing to give this book a try, leave yourself plenty of time to read it because if you're like me, you might not want to put it down. This is the kind of book that if I could drive and read at the same time, or walk and read or work and read , this is the book that I'd do it with. I took a chance on a new author and I consider it one of the best decisions I've made in a long time. I'm a happy reader.
Editor's note:
This article was originally published at Long and Short Reviews. It has been republished with permission. Like what you read? Subscribe to the
SFRB's free daily email notice so you can be up-to-date on our latest articles. Scroll up this page to the sign-up field on your right.