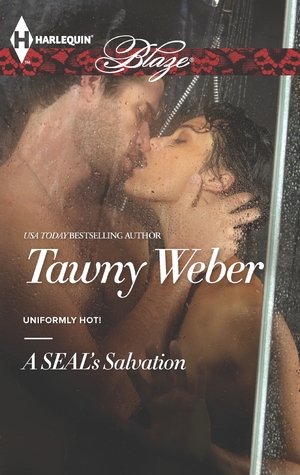 I enjoy a book about a town's bad boy turning his life around to be better than anyone ever thought he could be. I like when he ends up a hero, who proves everyone wrong, and ends up showing the town what a real hero looks and acts like. And in doing so, allows himself to love and to be loved.
The one aspect that makes this book believable to me and totally suckered me in was Brody being shanghaied into the Navy. Thing is, it can happen because that's what happened to one of my uncles. He too was on a path to destruction but instead of the Navy, he went Coast Guard. In this book, Genna's dad was the catalyst who forced the enlistment. For my uncle, it was my grandfather. Like Brody, it changed his life, gave him direction and made him a self-assured, successful man who was comfortable with his place in the world. Eventually he married a Navy woman and they're both happier than they thought possible. So for me, watching Brody and Genna fall in love, and everything they had to do, feel, fight for and stand up for, was very life affirming and relatable. I saw my own uncle live it. How could I not love this book?
I did really enjoy reading A SEAL's Salvation. Not only because of the abovementioned fact, but because Ms. Weber knows how to weave a sexy, seductive story in which well-crafted characters find their happy ever after.
Genna's personal growth was impressive. She had the most to lose and the most to gain by standing up for herself. In this case, Brody inflamed the spark of rebellion inside that had been simmering for ten long years. In the end, however, she had to do it for the most important reason of all – herself. The process was at times painful, sad and poignant but ultimately proved she had the mettle to be a Navy SEAL's wife. She just had to convince Brody.
Brody had his own emotional gauntlet to brave. His internal angst was just as agonizing because it could undermine and destroy everything he worked for and the man he'd become if he makes the wrong choice. His confusion comes from having to decide which was which. Insight came from an extremely surprising source and it warmed my heart down to my toes. It's scenes like that which make Ms. Weber's stories such a treat to read.
I loved the sexy letter writing campaign, the cookie revelation and Brody's grandmother is a sweetheart. I liked the dialogue because it captured the essence of the hero and heroine. Even the secondary characters had some impressive scenes on stage without which this book wouldn't have been as effective as it was. Ms. Weber knows how to create a wonderful supporting cast for her characters and she does it again in this novel.
I'd be negligent if I didn't mention the sexy scenes where Genna and Brody explore their budding physical relationship. They don't disappoint. The one thing I like is that the author never has her protagonists take themselves too seriously. There are moments, even when they are intense and passionate, where a smile sneaks up and turns into an all-out grin. Although the scenes were hot and satisfactory, I question whether a woman could really "lose count of all her orgasms". I figure a Navy SEAL has to be good, but is he really THAT good? It sure is a nice fantasy.
A SEAL's Salvation is a smoking hot fast read that's sure to please. I read it in one sitting all due to the fact that Genna and Brody were compelling characters. I liked their history, their journey and the promise of a happy ever after future. This book embodies what I enjoy about reading romance and it's a definite recommend.
Editor's note:
This article was originally published at Long and Short Reviews. It has been republished with permission. Like what you read? Subscribe to the
SFRB's free daily email notice so you can be up-to-date on our latest articles. Scroll up this page to the sign-up field on your right.