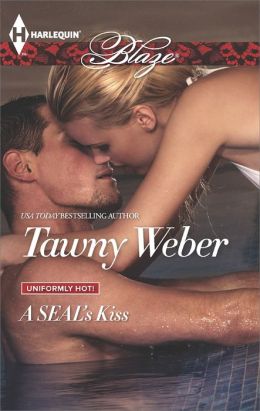 Romance fans of the "friends turned lovers" theme are in for a treat when they pick up a copy of A SEAL's Kiss. The whole book is a long, wet, slow slide into seduction and a very fun read.
Sage and Aiden are good together. What I liked was getting the goods on their feelings and Ms. Weber made that possible by telling the story in each the protagonists' point of view. I enjoyed seeing how the seeds of love are there, but life, the characters' choices and their assumptions got in the way. The author used a well-known technique of peer pressure and family crisis to set the stage for the inevitable. The machinations were believable because she crafted two characters whose actions made sense because of the way they were written – personable, responsible and fighting their natural inclinations. It's the internal conflict between them that lit the fires of passion, and like a runaway fire, took on a life of its own, consuming them to the point they thought of nothing else except wanting to touch and be touched. Pure seduction.
There are fluffy secondary characters that helped set the tone and stage for Sage and Aiden getting together. What I mean by fluffy doesn't refer to animals but characters that don't have a lot of depth or screen time, but the author made the most of them to get Aiden and Sage on the right path. I got the impression they were loving and supportive of the hero and heroine which means the protagonists were well thought of. It was necessary to provide a sense of community and it worked.
Dialogue was oftentimes witty, insightful or downright delicious, especially when Sage sets out to flirt, taunt and seduce Aiden. The results were dynamic and steamy. My favorite ploy that Aiden used was "What would Sage do?" and I loved the results.
I really enjoyed getting to meet Sage. She's a fun heroine with a sunny disposition but she's not as shallow as she lets on. She proves it time and again throughout the book. I liked Aiden; of course Ms. Weber described him in such sensual detail, how could I not? ::grin::
Curling up with a A SEAL's Kiss in a comfy chair is a perfect way to spend some quality downtime. It's amusing, hot and engaging, and for me, a one sitting read. I didn't want to put the book down; I was having fun and didn't want it to end until I reached the happy ever after. The HEA was worth the wait. Try it and see for yourself.
Editor's note:
This article was originally published at Long and Short Reviews. It has been republished with permission. Like what you read? Subscribe to the
SFRB's free daily email notice so you can be up-to-date on our latest articles. Scroll up this page to the sign-up field on your right.