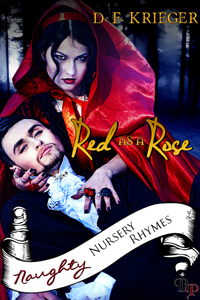 While in the traditional Red Riding Hood the wolf seems to hold most of the control, it is quickly clear that when it comes to Rose and Tobias she has all the power.
Tobias is a rough man who can only think of one thing, how to protect his people from the hunters. While some may see him and his fellow shifters as beasts, they are just a wayward band trying to survive the best they can. With Rose's magic running through his freshly animated body he soon finds another desire on top of protecting those he cares for, learning more about Rose in any facet available to him.
Rose, while grieving for her grandmother, knows she has a gift that she can either use for good or for bad. Necromancy has always been seen as a bad dark magic that no witch should possess, yet mother nature tells her to use her gift to bring Tobias back. It is almost immediately obvious that although Tobias is important to his people, he seems to be equally important in Rose's story. Tobias to me was a way for Rose to see that her necromancy does not necessarily have to be a bad magic if she chooses to use it the right way, and in the end I think she too begins to understand this.
Some of the sub-plots in the story seemed a bit underdeveloped to me. Rose immediately has a attraction to Tobias, but his being a shifter is a concern for her. I think that this wasn't fully developed and while it was addressed I think that a little more rationality or thought from Rose would have allowed me to see how she got past this concern. Additionally, Tobias feels such a strong bond with his people, but it never really says if he is a leader to them, which I get a sense that he is, but never really found out. At the end of the story I still also felt like the relationship between Rose and Tobias was questionable as well as what would happen with the shifters.
I love the idea of remaking nursery rhythms. I see it as re-inventing the stories you loved as a kid, to meet the needs and taste for adults. This one truly added a twist to the classic that I found refreshing. While I would have preferred a bit more erotica, I can say this was a entertaining love story. It was a nice quick read that made me smile in the end, because it was clear that Rose certainly didn't need any hunter to save her, as she was far from afraid of any big bad wolf.
Editor's note:
This article was originally published at Long and Short Reviews. It has been republished with permission. Like what you read? Subscribe to the
SFRB's free daily email notice so you can be up-to-date on our latest articles. Scroll up this page to the sign-up field on your right.