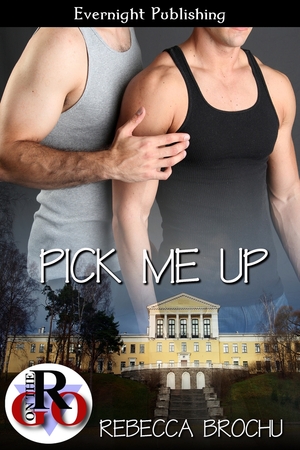 Bryce didn't get the chance to go clubbing and let loose very often and he genuinely missed having fun. But money was tight and he needed all the extra hours he could get. When his best friend insisted though, Bryce found himself unable to refuse. Seduced out on the dance floor by a handsome stranger, Bryce found himself unexpectedly at a loss when Felix Cranshaw left him with a business card and feeling of unfulfilment. Not one to indulge in a one night stand, Bryce lets the opportunity pass him by and quickly gets back to his regular life. A new job – one that brings him back into Felix's orbit – sets him back onto the path of the one who got away.
I really enjoyed this short story. With two interesting main characters that instantly drew me in and a smoking hot opening scene I found this to be a refreshingly different read. Bryce doesn't just jump into bed with Felix – though he's sorely tempted to. The chemistry between the two men is smoking hot, but far better than that was the descriptions of their first few interactions. The depth the author placed on their connection and the starts of their relationship was something I often miss in short stories and I thought was exceedingly well written. While a wham, bam thank you ma'am style quickie is always alluring, all too often it leaves me wondering how the main characters could really go on from there. As Bryce and Felix interact and the chemistry smolders between them, their attraction to each other and deepening feelings left me as a reader in no doubt that theirs was a far more solid relationship. Not just a passing fancy.
I would have really loved if the story had been a bit longer, maybe taking Bryce and Felix through that final scene or with one more. I feel it would have rounded out the story just that little bit more, but am unsure if there was a word limit or something similar that restricted the author. Apart from that mild complaint this is a lovely story, full of cheesy pick-up lines, good humour, and what I thought was a solid, realistic and thoroughly enjoyable connection between two men. There isn't anything too outwardly kinky or offensive and I thought the sex was hot, tasteful and really well written.
I'd recommend this to friends who are interested in reading M/M but don't want to push the envelope too far. There is only the one sex scene – so those who like more action might be left a little wanting in that sense, but personally I feel that the strength of the connection between Bryce and Felix, and the interactions between them as they get to know each other makes this a more fulfilling story than instant sex and copious scenes of that would have given. A refreshing story that left me with a big grin and a curiosity to read more by this author.
Editor's note:
This article was originally published at Long and Short Reviews. It has been republished with permission. Like what you read? Subscribe to the
SFRB's free daily email notice so you can be up-to-date on our latest articles. Scroll up this page to the sign-up field on your right.