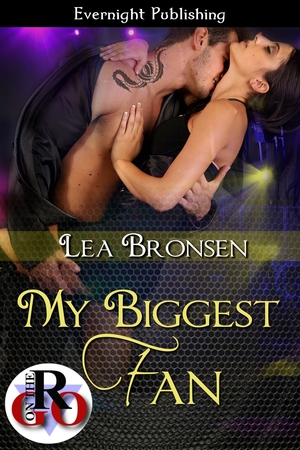 Hot rock stars, fans and a good dose of sexy, what's not to love?
Shawn Torien is a bass guitarist in rock band Bloodless. He's gorgeous, arrogant and lives up to the reputation his fans expect of him.
My Biggest Fan is told in Shawn's voice. Typical male he thinks of his cock and women, a lot, and we even get a description of him urinating. He keeps people waiting, rushes for no one and does his own thing. That is until he meets the band's webmistress, Samantha. Then his thoughts turn to the fact that she's on the road with them for a few days – oh, yeah, you just know how 'that's' going to go!
Samantha already has a crush on Shawn, though I kind of wondered why, he doesn't seem very likeable for the first portion of the book (he describes womens' breasts as 'huge melon's and happily humps groupies).
But the relationship between Samantha and Shawn does grow (OT: I always prefer lead characters to have names beginning with different first letters but that's just a thing of mine). He doesn't find her particularly sexy to start with but their attraction blossoms as they get to know each other and he even describes her as a 'friend' which is a revelation for him as she's female.
I warmed to Shawn a little more as I reached the half way mark, but when there's a phone call with his mother in a care home and she's in need of immediate help, I wasn't impressed by how he handled it and that again turned me off him. Samantha however isn't turned off and still wants a relationship with Shawn.
I felt there was a bit much going on for the word count of this book which is why I gave it half a star less than 4 which it could have had because the writing and plot are okay. Shawn wasn't a bad man really, just complex and his niceness was buried beneath a lot of layers. With the present family issues and a bad childhood he's a messed up soul. As for Samantha, she has burn scars on her chest from an abusive father – again it's a part of the storyline that needed more attention in my opinion – and lost her mother at fifteen. A big pile of angst dropped into the dialogue when I least expected it and drew me out of the sexy.
My Biggest Fan is a rock 'n' roll read told from the rockstar's voice. If you want to get in to the head of a sexy, mad, messed up guitarist this is your book.
Editor's note:
This article was originally published at Long and Short Reviews. It has been republished with permission. Like what you read? Subscribe to the
SFRB's free daily email notice so you can be up-to-date on our latest articles. Scroll up this page to the sign-up field on your right.