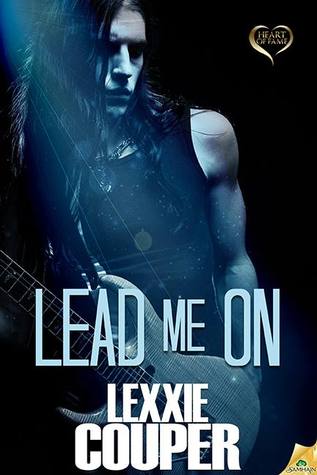 Lily Pearce hates rock music and anything to do with the business of rock music. After watching as her brother slowly deteriorated from the excesses the rock life offered, she is happy to see him safely in rehab…again. When he gets an offer to try out for the possibility of replacing Nick Blackthorne, she is torn. She has never seen Eugene more determined to stay straight and succeed at the audition, but she is still worried that he won't be able to handle the pressure and temptations of the life he wants so badly. When Samuel Gibson shows up at the rehab center to talk to Eugene, Lily is determined to stay away, but that becomes impossible when Eugene offers his sister as tour guide for Samuel's entire visit. Lily is sure she will hate every minute, but as she begins to see the man behind the image, she begins to lose her heart to Samuel, and Samuel does what he can to show her he isn't the debauched cretin the tabloids make him out to be, at least not anymore. Can Lily learn to accept the passion Samuel offers, and not hold his career against him? Can Samuel convince Lily of his true intentions? Can these two help Lily's brother or will Lily's ideas stop the romance before it even plays its first few notes?
Lead Me On is the latest in Lexxie Couper's Heart of Fame series. This is a hot and imaginative look inside of a rock band looking for a front man to give them a new voice. I like this world Ms. Couper has built. The characters are well defined and likable, people you could meet and be friends with. I always enjoy a peek into a world I can only imagine, and Ms. Couper does it with style and lots of heat.
Samuel 'Sam' Gibson is the epitome of the rock and roll bad boy; handsome, sexy and just a bit wild. But that is the person the world sees, and there is another, more private side to him, a side that envies his friends as they find that one special person to connect with. When Samuel meets Lily Pearce, he is determined to show her that there is more to him than what the tabloids portray, and it is fun to watch as he tries, sometimes unsuccessfully, to breach her walls and reach her heart. I liked that, for every positive move, there was a chance that something would tip the scales in the opposite direction, and I enjoyed watching Samuel pull out all the stops trying to win Lily over.
Lily Pearce is smart, sassy and independent, and is determined to stay away from anything to do with the world of rock and roll. She is fiercely loyal and very protective of her brother, and can't see that, at least in part, he is to blame for his downfall. She wants to see her brother healthy and whole, but also wants him to be happy. She doesn't want to ruin his shot at his dream, but fears that the temptation could be too much for him. She is determined to hate Samuel and everything she thinks he stands for, but as she spends time with him, she begins to realize that not everything is as she has thought it to be. I enjoyed watching as Lily begins to let go of her preconceived ideas and learns to look for the inner person with Samuel and not just assume the worst of him.
There are some sweet and charming scenes in this, and the passion Ms Couper infuses goes form gentle and loving to scorching hot as these two circle each other. There are challenges for each to overcome, and I like that they do it with humor as well as passion, and I was happy to see Samuel admit his faults, even as he tried to show Lily that he really is almost like any normal, but hot, guy. There are highs and lows for this couple, and places where I wanted to kick one or the other for poor choices, but I like the way Ms. Couper brought them to their happy ending without making it sugary sweet, and leaving the edge in the relationship. This is for those who like romance and those ever rocking bad boys with a heart of gold.
Editor's note:
This article was originally published at Long and Short Reviews. It has been republished with permission. Like what you read? Subscribe to the
SFRB's free daily email notice so you can be up-to-date on our latest articles. Scroll up this page to the sign-up field on your right.