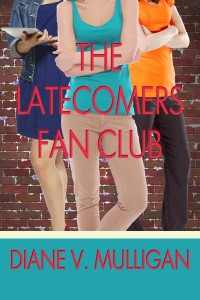 This was a challenging read that certainly makes you think about choices and how the affect our lives.
Truthfully, I didn't really care for either party when I first started reading this story. Both seemed so self-absorbed and not into each other. Abby had become involved with Nathanial when she first met him at the bar where she was working. He played his guitar with his band. Abby was interested because of this, and so had been with him for years. She doesn't really love him, and he doesn't really love her, but still they stayed together.
Now, on New Year's Eve, Abby is hoping that Nathanial is finally going to ask her to marry him. But Nathaniel is hoping that soon he can escape from his humdrum existence with someone he barely tolerates. Neither party is really happy with their lives. This seemed really sad to me. Nathanial is struggling financially as an adjunct professor, barely making a living. His original plan in life was to be a musician. But his band, The Latecomers, broke up and he hasn't picked up his guitar in months.
He decides to go to a party with his old friends instead of hanging out with Abby, and while at the party, he sees his first love, Maggie, from his High school days. Spending time with her makes him realize that he is wasting his time with Abby and he decides to break up with Abby. Seems easy enough, but that's when stuff starts getting very confused.
Things start to change for all three of them on New Year's Eve. He is in one town, Abby is in another. This gives them both a chance to look long and hard at their relationship. It is much more involved than that, however, and it was at this point I found myself beginning to really get into the story. It started becoming very interesting as I read about how each person started learning more about themselves and decided to change. It was really way past time for them, and I enjoyed reading about all the choices, good and bad, they made. Finally! Some growth!
Overall, this was a well written story, and I enjoyed the writing style of the author. She has a voice that entertains and keeps the reader interested. This wasn't an easy read, and sometimes wasn't pleasant, but it offers a bit of a message to us all and does have a worthwhile and satisfying ending — something I wasn't sure the author would be able to accomplish, but she pulled it off! Nicely done, Ms. Mulligan.
Editor's note:
This article was originally published at Long and Short Reviews. It has been republished with permission. Like what you read? Subscribe to the
SFRB's free daily email notice so you can be up-to-date on our latest articles. Scroll up this page to the sign-up field on your right.