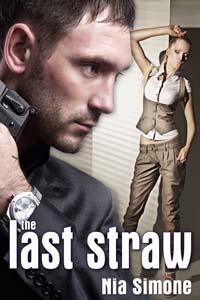 Ally Tobin can hardly believe it when she sees the photo attached to a resume on a job application she's reviewing. The man is undeniably her ex-lover, but the name and fictitious history to go with him is puzzling to say the least. When Jared secretively scrawls a note asking if she can meet him for dinner, she agrees – against her better judgment. Jared Green regrets leaving Ally in the lurch like he did, but working undercover is difficult and dangerous. Now he's been offered a second chance, and he doesn't plan to make the same mistakes again.
I found it really refreshing how the author hasn't just let her hero get off the hook with his bad behavior. This is not a story where a quick grin, a few sexy moves and a simple "I'm sorry" win the heroine's heart back over again. Ally makes Jared work for his atonement and the deeply emotional writing really won me over. Usually I'm not so keen on heroes who wear their hearts on their sleeve and over-talk everything, like a woman is wont to do. But I also realized Ally and Jared's situation wasn't something that the usual male uncommunicative response (or the other common "I'll seduce her till she can't think straight" approach) would work. Ally and Jared had some genuine issues, baggage that needed talking and a rebuilding of trust to right things between them, and I feel the author gave the reader that in spades.
Amongst the romantic relationship, there's also a secondary plotline of someone stealing intellectual data from the company. I was a little disappointed how most of the work Jared did hunting down the thief was done off-camera. Indeed, I was surprised when mid-way through the book Ally asked if Jared was making any progress, and he simply said they'd found him and named the person responsible. None of the work, searching or detective side of this plot was really shown to the reader and I found it made this secondary plot seem very weak – as if it had just been thrown in as a reason for Jared to be present at the company and reconnect with Ally.
If you're looking for a strongly emotional romance with a smoking hot love scene that leaves little to the imagination this is an excellent book to try. While there is a plot around the stealing of intellectual property, I found the main focus to be on the rebuilding of trust and connection between Ally and Jared, and the establishment of their relationship after Jared has left Ally high and dry. Filled with emotion and chemistry, I really enjoyed this novella.
Editor's note:
This article was originally published at Long and Short Reviews. It has been republished with permission. Like what you read? Subscribe to the
SFRB's free daily email notice so you can be up-to-date on our latest articles. Scroll up this page to the sign-up field on your right.