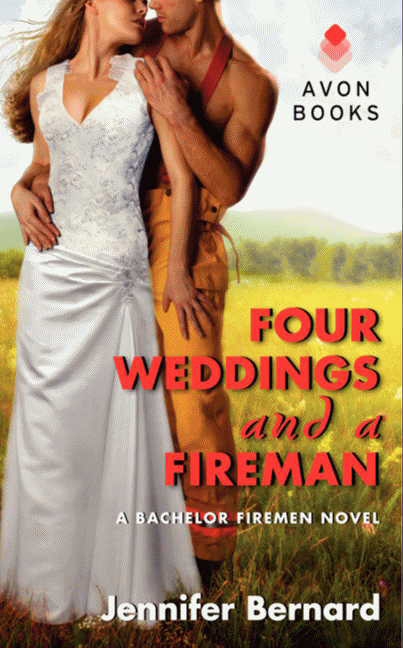 What's awesome about a firefighter besides his bravery, brawns and courage? Brains, determination and the heart of a lion. Followers of the The Bachelor Firemen series will remember Vader as being a pumped up behemoth of a man who only seemed to be the perfect side kick, the jokester and the one most in love with pumping iron to the exclusion of all else except fighting fires. Four Weddings and a Fireman showed that Vader has deeper depths than anyone ever dreamed, and it made for one heck of an interesting story.
First, this is a solid standalone read. A new reader will fit right in with reading this book out of order and be perfectly fine. When I first discovered this series, it was by accident and it was the third book in. I've since grabbed all the back stories and all the ones since and have enjoyed every single one, Four Weddings and a Fireman included. There's just something about Ms. Bernard's talent that one bite is simply not enough. Those bachelor firemen create a craving and the author delivers such a fine and entertaining romance for each and every man that they are a treat to read.
Vader is a very large man who is constantly seen perfecting his form with weights at the gym What the author does is explore why he is the way he is. What drives him and creates that intense focus is nothing less than heroic. However, the hero is under a misconception – one that he is so stubborn against changing that it almost costs him someone he loves. That pivotal moment when change is forced upon him opens his eyes to what amounts to his fearful arrogance and it alters the course of his relationship with his firemen brothers and to an even greater effect, his on again/off again romance with the love of his life, Cherie. It's an excellent vehicle for drama, suspense and hope. Add frustration. Poor Vader is put through the "love wringer" so many times, my heart ached for him.
Cherie was a surprise. She's neither shallow, nor ditzy, nor is she leading Vader on and toying with him. There's a very good reason for blowing hot and cold all the time and it turns out, she was right to try to keep Vader at a distance. That overall fear guided her internal conflict until it became THE conflict – the one that effected everyone around her, even innocent bystanders, and produced some of the best tense, action packed scenes in the book.
Cherie's sister sort of annoyed me but she sure was effective at mixing things up and her character got things done. Cherie's brother and his cohorts were integral to the plot too. I thought her brother was a bit more emotional then he needed to be but that's before the author revealed why he reacted so irrationally to some of Cherie's decisions. Vader's mom was important too because she provided motivation and some of Vader's internal conflict. I'd say every single one of the secondary characters included in this book were vital because they enhanced Vader and Cherie's strengths and weaknesses and certainly played a part in bringing them together – eventually.
The villain was not a figment of anyone's imagination. He turned out to be much worse than even I could have predicted. The author created an effective villain who was irredeemable. He gave me the creeps.
Dialogue was key but so were the descriptions of Vader and Cherie seducing each other, even unintentionally, and the fun and sexy hijinks that ultimately took over. I enjoyed how even the most innocent of things could get the hero all hot and bothered, and how totally in love Cherie was with Vader that he was a constant aphrodisiac, her moth to his flame.
There were times, quite a few, in which I was vastly annoyed with the heroine's constant dithering about whether to trust Vader, about how closed book she was and that waffling drove me nuts. After I read the story, I understood all, but while it was happening, it just seemed to go on and on, over and over and I wanted to yell at her, "Tell him!" That's why I felt her sister was an important character – she helped give Cherie the shot in the shorts the heroine needed to do the right thing. Vader's own "shot in the shorts" was dramatic and unnerving, but again, effective.
When it comes to the hero and heroine 'getting it on', I'm a happy reader. Ms. Bernard provided me with plenty of opportunities to see that those two get on, pardon the pun, like a house on fire. It's the perfect cliché to attach to those two. Talk about steamy pages!
Four Weddings and a Fireman is a sure pleaser for romance fans. For readers who think the ultimate sexy and hot hero is a fire fighter, they're going to find a lot to enjoy as Vader finally gets his girl. It's a thoroughly fun and entertaining romance with just enough drama and suspense to keep the pages turning. There's humor, silly antics and even sentimental scenes to keep a reader's emotions engaged. The happily ever after includes a wonderful, satisfying wrap-up that had me sighing wistfully. I want to attend a party like that. It sounded like so much fun! And that's the compliment. I'd like to meet all those guys because Ms. Bernard created characters that seemed to come alive and jump off of the pages straight into my heart. Who wouldn't want a hunky fireman of their own? Try Four Weddings and a Fireman and find out for yourself.
Editor's note:
This article was originally published at Long and Short Reviews. It has been republished with permission. Like what you read? Subscribe to the
SFRB's free daily email notice so you can be up-to-date on our latest articles. Scroll up this page to the sign-up field on your right.