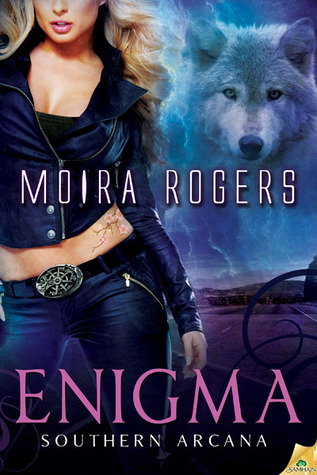 Two wounded souls, attracted to each other, but neither is ready to admit they could actually have a future together.
Patrick still misses his brother Ben, and has secrets he's kept buried so deep, no one has ever discovered them. Anna is also alone, believing that she isn't worthy of anyone's love, since her mother walked away from her when she was just a child. These two have worked as partners, with a trust between them that begins to become much more as they tackle their next assignment…find out why wolf shifters in the Southwest area are going missing, especially the son of the pack leader in that area. As Anna and Patrick investigate, they find that there is a sinister magic behind it, and they know the only trust they can depend on is theirs. Patrick has wanted Anna for so long, and as they work, they finally yield to temptation, and he finds that he may not be able to walk away when this is over, although Anna insists this is only temporary. With their lives and their hearts in danger, can these two stop the evil that has hit the supernatural community, and stop the witch behind it all? Can Patrick convince Anna to take a chance on them for more than just a short term affair? Can Anna get past the hurt and pain of her past to forge a future with Patrick?
Enigma is the latest in the Southern Arcana series from Moira Rogers, and I was happy to see Anna and Patrick finally get their chance in the spotlight. These two have played supporting roles in the past, and I enjoyed watching as they came into their own with this one. As with the other books in this series, the characters are charismatic and well defined, and the world Ms. Rogers has built is ever so slowly expanding to show other supernatural communities outside of the original New Orleans locale. I enjoyed seeing some of the pack hierarchies, and catching up with a few old friends from the earlier books.
Anna Lenoir has fought all her life to prove that a female shape shifter can be just as strong and lethal as her male counterparts. She now fights for money, as a bounty hunter and sometimes enforcer, and has never met a man she couldn't walk away from…until Patrick. He accepts her as she is, respects her abilities, and she fights to her very core the attraction she feels for him. Anna is strong and lives by a code of ethics that keeps her from getting close to anyone. I like Anna, and enjoyed watching her finally relax enough to let someone inside her walls. I liked the snarky dialog and verbal sparring between Anna and Patrick, and laughed a bit at some of her comments.
Patrick McNamara is a mystery, an enigma in the supernatural community of New Orleans. Although not a shifter, he has beaten many of them at their own game, and has been a very successful bounty hunter and fighter. No one knows exactly what Patrick really is, but he can hold his own in a fight, and is the one man you always can count on to have your back in a serious situation. He is strong, sexy and has secrets that he keeps from the world…even his friends, what few there are, don't know much about him. When his brother is murdered, he is determined to find every single one responsible, and he hides his pain from everyone except Anna. With her, he can be vulnerable, and he trusts her more than anyone. I enjoyed watching as Patrick began his campaign to win Anna's heart, and I enjoyed their verbal jousting as they worked together to stop the evil trying to take over in the Southwest.
Enigma is a bit darker than some of the other Southern Arcana books, but that is because both of the primary characters are deeply wounded souls, and both have faced such hardships and pain in their pasts. Anna and Patrick deserved their chance at happiness, and the path to their happy ever after is not an easy one. I like this one, because we finally learn more about two of the most private people in this series, and I also enjoyed catching up with Alex, Andrew and Kat and all of the characters Ms. Rogers has created for this world of magic and mystery. This book is a perfect addition to the Southern Arcana world of Moira Rogers, and I recommend it to anyone who likes their romance with a side of mystery and magic.
Editor's note:
This article was originally published at Long and Short Reviews. It has been republished with permission. Like what you read? Subscribe to the
SFRB's free daily email notice so you can be up-to-date on our latest articles. Scroll up this page to the sign-up field on your right.