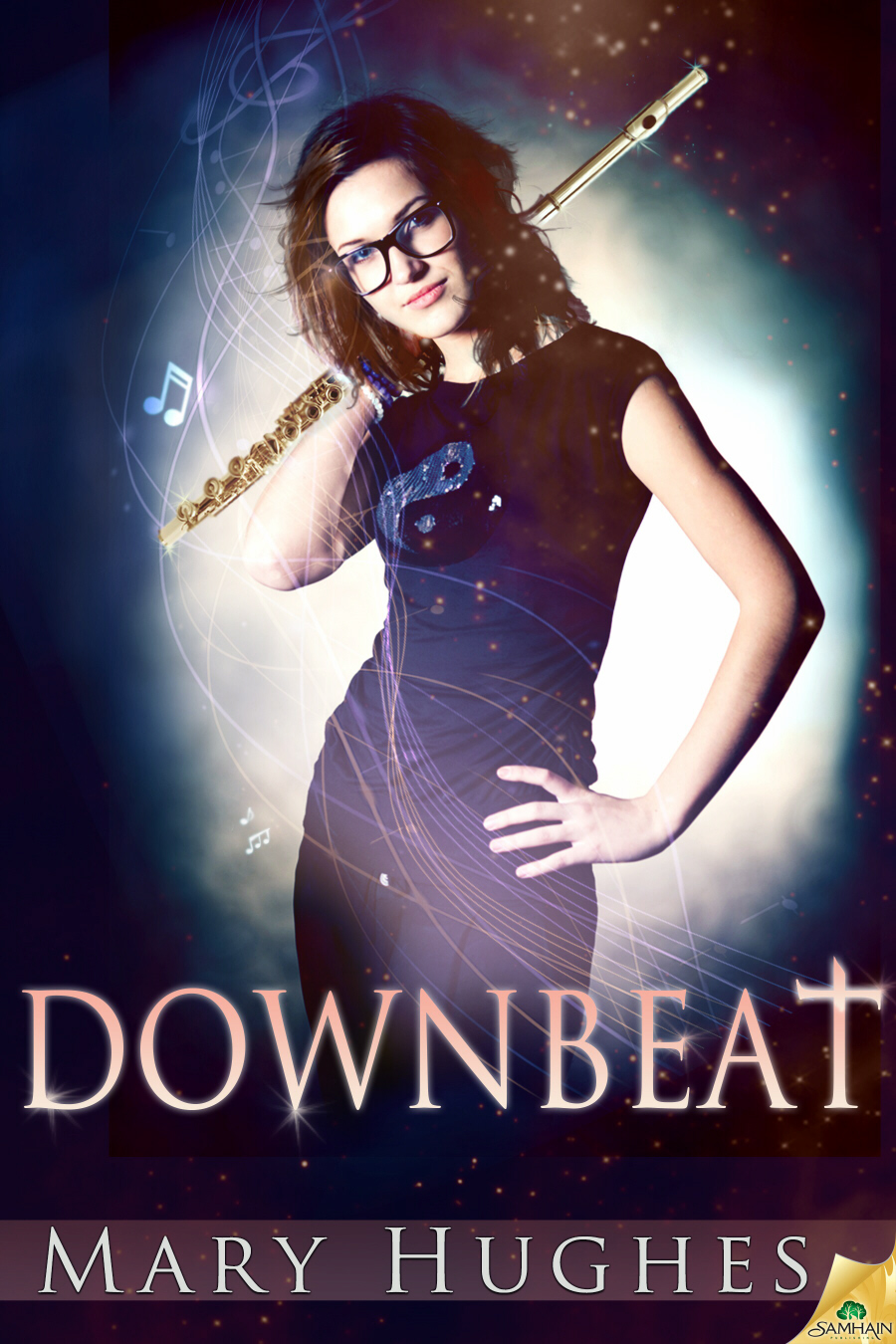 Downbeat is the latest offering in the Biting Love series of Mary Hughes. Filled with the quirks and kitsch present in this series, Downbeat offers readers a glimpse into the Meiers Corners society, both human and vampire.
Meiers Corners is home to quaint old world German sensibilities, quirky characters and hotbed of vampire activity. When the conductor of the small orchestra that has its home in the area is incapacitated, a guest conductor comes to work with them, world renowned Maestro Dragan Zajicek. Flutist Raquel 'Rocky' Hrbek has followed his career, and can't quite believe he is there to lead them. She also know things about Meiers Corners that her friends have tried to keep quiet; the existence of vampires in their quirky little town. She is fascinated by Dragan, and he is attracted to Rocky, in spite of his belief that he is not worthy of finding love, believing he failed his family centuries before.
When danger, in the form of a super powerful Soul Stealer vampire, comes to the area, it will take all that the vampires of the Iowa Coalition cam muster to find this vampire's weakness in order to defeat him. Can Dragan, Rocky and the rest of the Coalition stop the Soul Stealer before the monster destroys them all? Will Rocky be able to resist Dragan's romantic advances, and does she even want to? Can Dragan get over the past and grab his one chance at true love and happiness with Rocky?
The world Ms. Hughes has created keeps expanding, reaching out to include more of the unique residents of the town, and adding to the vampire population as well. I enjoy this world for the humor and romance, and this has the added benefit of showing readers, finally, a peek at the elusive leader of the coalition, Mr. Elias.
Raquel 'Rocky' Hrbek is quiet, shy and unassuming, with no idea how attractive and tempting she is. When Dragan pursues her, she doesn't understand his attention, but she is willing to go along, because she has idolized the Maestro for years. Rocky knows about vampires in her town, although her friends have tried to keep her in the dark. I enjoyed watching as Dragan slowly penetrated Rocky's defenses, and brought her out of her shell. I also love Rocky's attempts to get her friends to admit to what she already knows, that vampires exist and walk among the citizens of Meiers Corners. I love her references to 'v-guys' throughout the book, and the many ways her friends try to distract her.
Dragan Zajicek is handsome, daring and strong. Due to his past, he believes he is not worthy of being loved, and sees himself alone for the rest of his very long life. When he meets Rocky, he realizes she is his one true love, but is not willing to be more than a temporary fling for her. I loved watching as he and Rocky grew closer, and the many ways he showed Rocky how special she is to him. And it was a delight to see Rocky work through his issues, and finally convince this strong, risk taking and courageous vampire to take one more chance…on love.
This book features the most dangerous enemy of the 'good v-guys' to ever appear in the Biting Love series, the Soul Stealer. He is almost invincible, and it takes everyone working together to finally find his weaknesses and defeat him. I liked catching up with old friends such as Nixie, Elena and the vampires they love, and I was delighted with the first real glimpse of the elusive Mr. Elias, and what an intriguing glimpse that turned out to be. Of course, there is plenty of steamy passion, and sexy interludes in unusual places for Rocky and Dragan, and there's a double date with Rocky's mom as part of the second couple that is a really hilarious bit of adventure. This one made me laugh out loud, brought me to tears, and made me sigh at the more than happy ending. I highly recommend this one, as well the rest of Ms. Hughes' Biting love series. Be prepared to laugh, cry, giggle, sigh and fall in love with Meiers Corners.
Editor's note:
This article was originally published at Long and Short Reviews. It has been republished with permission. Like what you read? Subscribe to the
SFRB's free daily email notice so you can be up-to-date on our latest articles. Scroll up this page to the sign-up field on your right.