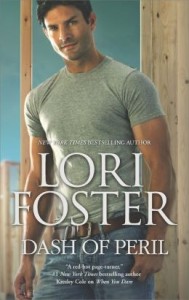 Get out the fire extinguisher, this story is scorching! It's one long, slow seduction that builds and builds until it explodes in scenes of out of control passion. Margo and Dash's convoluted romance is woven in amongst a very suspenseful and dramatic plot that pits their fledging trust and love against a dastardly scheme. Many times it was almost impossible for me to step away from the book – so much happens in each chapter, I was hooked.
Ms. Foster presented two dynamic characters to work her magic with. Margo is the hard-edged, take-no-prisoners heroine who is a police lieutenant who doesn't know how to relax, and Dash, the hero, who seems like relaxing is all he does. It's amazing how deceiving the surface of a person can be. The author wasted no time in sharing the sparks between the two protagonists and truly, the first two chapters are a doozy. In them, the author sealed my interest and invested me 100% in caring for her hero and heroine because the action starts almost immediately and danger flavors the drama to a startling degree. There wasn't any skipped paragraphs or glossing over any scenes – everything is pertinent, intense and fascinating. A must read.
The sensual tease is extreme. Dash's plan is to love Margo into loving him. It sounds impossible until I saw his plan in action. Wow, does that man know his way around a woman's body. And his words! His intent! Never mind his delivery – the hero isn't so laid back and fickle as everyone seems to believe. He proves it without a doubt in Dash of Peril. Not only that, but having a brother who is also a police officer has given him an edge when it comes to crisis and he proves his mettle many times throughout the novel. Maybe he was a bit too good to be true, but I didn't care. It was all part of telling a great story that entertains and believe me, I was highly entertained.
Margo's character is the one that has the most to gain, lose, learn and grow. Dash was her sounding board and her catalyst for change. She certainly enjoyed the process and the author took great pains to make a reader understand just how much of a challenge it was for her to adjust, open up and believe in someone. At times it was painful and many times it was beautiful. It was also very sexy.
This tale is also an emotional roller coaster due to subject matter. The mystery is finding out who is committing the crimes, the drama comes from the bad guys targeting Margo and the suspense comes from hoping no one dies but never really being sure if anyone is going to come to the rescue in time and if any of the villains were going to get away. The topic of the crime is disturbing as I'm sure it was meant to be. I didn't like it at all but that is why it was so important for the good guys to win – vile things like that should be stopped.
Although there was an intense external plot conflict, the internal one for Margo was rather sad. She comes from a very cold, dysfunctional family so it makes sense that her opening up to Dash would be such a leap of faith. The hardest part was towards the end, when she really believed the worst. That broke my heart.
I'm going to reiterate how intensely sexual this book is. Dash is commanding and Margo slowly learns to accept that being submissive does not equate with being weak. Not at all. Ms. Foster practically singed off my eyebrows with some of the scenes, so get ready.
Secondary characters are extremely important in the telling of this novel. Many I remember reading about when they were the stars of their own books so it was an absolute thrill to see them in action again, but rest assured this is completely a standalone book. If anything, reading about Logan or Rowdy only made me want to read their stories again. There is a reason they are on my keeper shelf.
I would be negligent if I didn't mention the kitty. It's a great touch, and it provided a wonderful 'awwww!' factor. I loved reading how the cat reacted in many scenes. It was very telling and important and the best was how Dash interacted with Margo's pet. So sweet – how could I not love Dash as a hero?
I know I'm leaving a ton out because this was a very busy book. There are so many other aspects of the book worth sharing but I think it's best to just read, enjoy and be surprised. I had a blast reading Dash of Peril and I highly recommend it to all readers of sexy romantic suspense. It's a sure winner and, the crime element notwithstanding, a very fun book indeed.
Editor's note:
This article was originally published at Long and Short Reviews. It has been republished with permission. Like what you read? Subscribe to the
SFRB's free daily email notice so you can be up-to-date on our latest articles. Scroll up this page to the sign-up field on your right.