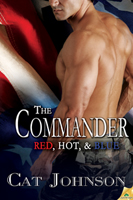 Commander Hank Miller is past forty, long divorced and wants nothing more after a hard day in Special Ops than to go home and relax. When asked to join the team for a beer after work, Hank's initial impulse is to say no. But with mounds of boring paperwork, no one waiting for him at home and his friend's request to talk to the team on a personal matter, Hank gracefully gives in and goes for the drink. When Jimmy Gordan announced his imminent wedding and his desire for their team to stand up with him, every man is on board. With the nuptials to occur in a scant two weeks, they all arrange to take some leave and descend upon Jimmy's small home town. Pigeon Hollow – and Lois Gordan, Jimmy's mother – won't know what's hit them.
This is a wonderful story, brilliantly paced and bursting with vibrant characters, laughter and a hint of spicy love. With a huge cast of characters, the author has done an amazing job keeping the balance. The Commander and Lois are certainly front and center, clearly the hero and heroine of the story, yet it's equally clear the whole Special Ops team is important and no one has been overlooked. We get to catch up with everyone and still – for those of us who have just started this series – get a good sense of all the men's personalities. I loved seeing how they all interacted, I thought it flowed really well and seemed so natural I didn't realize how quickly I was turning the pages, lost in the story and characters. The only downside I found was with so many characters it was difficult to have a convoluted plot. While the wedding (and all the bachelor shenanigans) was an awesome read, it felt more like a catch-up of the team and characters, than a plot driven story. This in no way lessened my enjoyment, however, and there were many laughs and sighs over all the antics the men got into.
For readers who want a character driven, fast paced read, this is a great book. Filled with diverse and unique men, I found the team worked well together and this was an interesting, good read. While certainly not a graphic, erotic novel, there are descriptive love scenes and the bedroom door is left wide open. I found this added more spice between Lois and Hank, and helped me see the relationship blossoming between them better – especially when there were so many other characters in the main story to contend with. A fun, fast paced read with a delicate hint of spice to it, I really enjoyed this story and can heartily recommend it.
Editor's note:
This article was originally published at Long and Short Reviews. It has been republished with permission. Like what you read? Subscribe to the
SFRB's free daily email notice so you can be up-to-date on our latest articles. Scroll up this page to the sign-up field on your right.