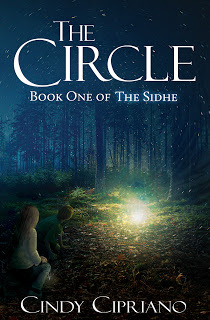 Sometimes you just know things that don't seem quite right, aren't. And sometimes you simply have to follow your gut feeling for no other reason than to find peace. It doesn't hurt to have a few good friends and a family that isn't quite human for support and encouragement.
Soon to be sixth grader, Calum Ranson, isn't so different than any other boy about to start middle school. He's concerned about getting mean teachers, he totally doesn't understand giggly girls and he really wishes his cousin Hagen and best friend, Arlen, would find a way to get along. And his magic seems to be weakening. On the bright side he has a new friend who happens to be a girl and she's not hard to be around. Plus, she apparently has an interest in magical creatures. Now, if he could figure out what happened to his cousin, Finley. It's a lot for one young sidhe to deal with but Calum is fortune to have a great support group in form of his parents, grand-parents and extended family.
I got a little lost on understanding the whole family dynamic because there are a lot of characters introduced either directly or indirectly in this first book. It's the book that sets the stage for the rest of the series so that was to be expected. This isn't a particularly long story so I can see myself reading it again before the next one comes out. I'm sure I missed some important details while following Calum, Hagen and Laurel on their quest to find both Finley and Laurel's brother, Daniel.
This story is a good easy read. While there is a lot going on, it's fast paced. Young readers who look for books and characters they can relate to will enjoy this series. Ms. Cipriano did a good job keeping the story light even when the plot goes a little dark. There's an evil faction to be dealt with in the sidhe world. While I didn't actually get to meet the big bad in this book, the way he's described and the people I met that he normally has around him were enough to let me know that he's going to cause lots of trouble for Calum and his friends and family in the next few books.
I really like how the author built her paranormal world. Words have power and places have meaning. It wasn't hard to picture myself stepping through the threshold along with the characters. I'm very interested to see exactly how much power Calum's grandfather, Uilleam, has and what was with the little girl Calum and Laurel meet on their way to the Hobayeth mound. I'm curious about the connection, if there is one, between Laurel and Calum's cats, too. And then there's the writing on the stacks. See? So much goes on and it all drew me in to see if this book would have its own conclusion or if it would leave me hanging. It did both. There's closure for some parts but then also some hanging threads that set up the next book very nicely. I'm looking forward to it.
If you have a young reader who enjoys a good adventure with a little bit of magic thrown in, this is a good book to check out.
Editor's note:
This article was originally published at Long and Short Reviews. It has been republished with permission. Like what you read? Subscribe to the
SFRB's free daily email notice so you can be up-to-date on our latest articles. Scroll up this page to the sign-up field on your right.