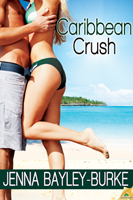 Antonnis Prinsen's brother had all been bitten by the matrimonial bug, and Antonnis is determined to remain immune. Kristin Taylor has grown up from the impressionable teen Antonnis left behind, but a part of her had never moved on from the hurt inflicted by Antonnis when he'd left without a word. Despite knowing he'd returned, she'd hoped to minimize the pain of exposure to him. Being a bridesmaid for her good friend – and knowing Antonnis would be a groomsman for his brother – she resigned herself to a few very awkward, uncomfortable days. But the heat that flares between them hasn't dimmed, despite time and distance, and Antonnis isn't going to let Kristin pretend there's nothing between them, not when he's discovering just how deep his feelings for her run.
This is a fun, wonderful summery read. Antonnis is definitely used to being in control and in charge of all around him. Despite his initial vehement statements against wedded bliss, he soon changes his tune when he bumps into Kristin once more. I was a bit surprised he seemed genuinely puzzled to find her so hurt by his past actions. After four summers of flings together, when he stopped communicating with her entirely "to make a clean cut easier for her" it didn't seem like the most intelligent explanation for his actions, and his puzzlement at his ignoring her multiple attempts at communicating seemed a bit thin. But Antonnis is quite arrogant and while I might be able to chalk it up to "male idiocy" it came across to me as quite unfeeling of him. Kristin I understood much easier. She's determined not to fall into the same honey-trap of Antonnis' good looks and charming personality. Privately, I'd have liked her to hold out a little longer – she really had been deeply hurt – but it's clear from the start her heart still belongs to him so I can't blame her for succumbing to his passionate kisses and hot embrace.
This book is seriously sizzling. The sex between Kristin and Antonnis is smoking hot and not something to share with sweeter or more traditional readers. I didn't find any of the scenes offensive or out of control, but they're very explicit and won't be to everyone's tastes. It was fairly clear to me that this is one book in the middle of a series, I'd think two of Antonnis's brothers would have their own book and I feel two of the secondary characters in this one should certainly either have or be getting their own Happily Ever After. But there was no real need to have read any of the other stories to follow along here, which is something I particularly like. I hate feeling like I'm missing required background simply because I pick a story up in the wrong order. The author is to be commended for me not feeling like I missed a beat here.
I enjoyed reading Kristin and Antonnis get their happily ever after, mingled in with plenty of sexy scenes, repairing of heartbreak and honest communication. While the plot isn't particularly new, I enjoyed the characters, with a strong cast of important and well fleshed out secondary characters and plenty of scenic, beachy Caribbean holiday fun. Great for a summer read, or one where you wish it was a bright, hot day outside.
Editor's note:
This article was originally published at Long and Short Reviews. It has been republished with permission. Like what you read? Subscribe to the
SFRB's free daily email notice so you can be up-to-date on our latest articles. Scroll up this page to the sign-up field on your right.