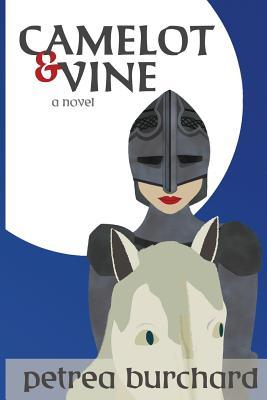 Her career and personal life in a tailspin, actress Casey Clemens finds herself hurled back into King Arthur's time. Mistaken for a wizard, surrounded by enemies, caught up in a love triangle, and secretly attracted to the king, she'll need more than 1.21 gigawatts to get herself back to the future.
Casey is a complicated character who is so used to pretending in her tinsel-town life, that it seems natural to her to continue pretending once she enters a reality straight out of her father's storybooks. Because of her fantastic arrival in the past—she's struck by a car and sent through a gap in time, landing on Arthur himself—the king assumes she is a wizard. Afraid for her life in this rugged world, Casey plays along. Eventually, though, she comes to understand that her actions have consequences for the real—not storybook—people she comes to care for.
Along with the rich level of history, I appreciate that this story has a warts-and-all approach to the past. Casey has to figure out how to survive in a reality without toothbrushes, regular bathing, or her migraine medicine. It's a difficult transition, but I like how she learns to deal with it and how it eventually seems like home to her. I also like how we find out more about Casey's childhood as the drama around her—especially Guinevere's infidelity—reminds her of, and helps her come to terms with, events in her own life.
Along with the drama surrounding her, there are some genuinely funny moments in the story. I especially enjoyed the opening sequence when we see what Hollywood and her stalled acting career are like for Casey. I also appreciate that unlike other time travel novels I've read, Casey is only too ready to tell people she's from the future—and they usually believe her. In fact, Arthur welcomes her because she is from the future. Eventually, the events in Arthur's time lead Casey to reevaluate her own life. She's a different person at the end than she was in the beginning, and I don't ask more from a story than that.
Overall, I enjoyed this book quite a bit and especially enjoyed how the author ties things up at the end. This novel is based on the rougher, earlier versions of the Arthurian legends, rather than the more romanticized ones, and uses Welsh names, such as Cadebir rather than Camelot and Myrddin rather than Merlin. Although not technically a romance, I think Camelot & Vine will appeal to fans of historical romance and especially fans of the Arthurian legends.
Editor's note:
This article was originally published at Long and Short Reviews. It has been republished with permission. Like what you read? Subscribe to the
SFRB's free daily email notice so you can be up-to-date on our latest articles. Scroll up this page to the sign-up field on your right.