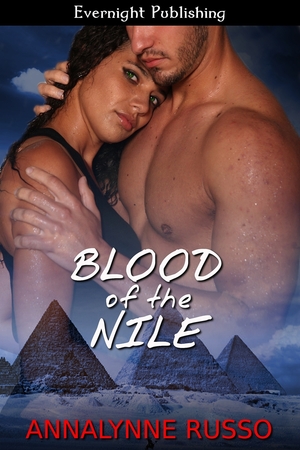 Lies, deceit, greed, and love…those are the driving emotions between the pages of Annalynne Russo's Blood of the Nile.
Maliyah had not seen her cousins in about twenty years, but it's a bitter homecoming. After her father's recent passing, she returns to Egypt to settle his affairs and has no plans of staying more than a few days. Despite the lost time and distance between them though, Salma and Husani offer some much needed affection and support during an understandably difficult time, and Maliyah finds the calling of her heritage too much to deny. Although Maliyah loved her father very much, her parents' divorce had created a gap in their previously close-knit bond. However, guilt over lost time and missed opportunity would have to wait. It appears as though the otherwise healthy business guru, Anwar al Aziz, may not have died so innocently after all. Before she knows it, Maliyah finds herself face to face with a few men from her past—one who wants to kill her and one who wants to seduce her—and thrust into a life and death search for answers to her father's premature death.
Maliyah is not the only one wanting answers. Ramses Shakir—long time business partner and even longer time friend—doesn't think Anwar's passing is merely unfortunate luck. His friend had always been a picture of health and he did not believe for one minute that he'd dropped dead from a heart attack. While he certainly planned to discover the truth behind Anwar's demise, he hadn't counted on his friend's daughter to show up and throw his world and his plans into a tailspin. Even when Maliyah was young, Ramses sensed an undeniable attraction between them. A mere girl at the time of her parents' divorce, Maliyah stayed with her mother in America, placing her far away from him and his deep-rooted desires. Now here she was all grown up, and Ramses quickly realizes that the quiet yearning he felt before would soon turn into an overpowering hunger for not only Maliyah's blood, but her heart and soul as well.
Blood of the Nile offers its readers a unique look at Egyptian culture. The author takes great care to incorporate some major differences in how women are treated and viewed there when compared to other places, like America. If anything, this really gave life to Maliyah and Ramses and made their characters all the more believable. While the underlying issue of family greed after the death of a rich relative is certainly nothing new or surprising, the persons behind it all was quite a shock.
The story moves along fairly well with adequate pacing and plot points. Probably the most deterring things for me, however, were the multiple point of view violations and a few details that just didn't jive or were not even physically possible. During the showdown between Maliyah and her father's killers, the main perpetrator performs a couple of actions that are physically impossible to pull off given his placement and the position of his victim. During the midst of this, Husani claims to have a shotgun holstered to his leg. Now I don't know a lot about guns, but shotguns are pretty darned long. Seems that would be a bit uncomfortable whilst sitting in the back of a vehicle, and probably impossible to whip out quickly unless he takes off his pants first. As with any story, a little bit of editing would likely fix these shortcomings.
Overall, this was an enjoyable enough read that kept me entertained and curious as to what happened next. Maliyah is a take-charge kind of girl thrust into a culture not accustomed to strong women. Ramses is a vampire used to getting his way by coercion or compulsion, and an Egyptian man not used to dealing with a firecracker like Maliyah. Put the two together and you're bound to have an explosive and exciting read packed with some amusing bang.
Editor's note:
This article was originally published at Long and Short Reviews. It has been republished with permission. Like what you read? Subscribe to the
SFRB's free daily email notice so you can be up-to-date on our latest articles. Scroll up this page to the sign-up field on your right.