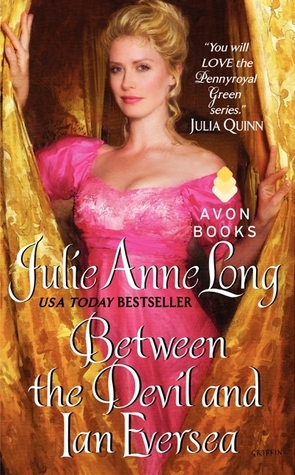 Sometimes first impressions can be quite misleading…
At first glance, Miss Titania Danforth seems like an angel. Her eyes, as her guardian the Duke of Falconbridge notes, are the color innocence would be if innocence had a color. But as he soon finds out, Miss Danforth is not quite what she seems. Titania, known as Tansy, is an incorrigible flirt who can't resist trying—and generally succeeding— to captivate every man she meets. When she meets the duke's brother-in-law Ian Eversea, however, her polished charm deserts her.
Ian has plans for his life after the army and the East India Company. He intends to sail the world—China, India, Africa, Brazil—and he's saved enough to money to be gone for years. His plans definitely do not include falling for an innocent young miss, no matter how vigorously she pursues him. Ian is a rugged, strong, battle-scarred man who doesn't necessarily fit the traditional Regency mold, but that just makes him a perfect match for the equally unconventional heroine.
When Tansy and Ian meet, it doesn't go well, and I loved that she makes such a negative impression on him because she's trying too hard. He's unimpressed with her because all he sees is a forward, importunate miss who's too innocent to know what she's playing at, and she's too dazzled by his looks to see beyond them or even maintain her poise. As the book unfolds and they begin to know each other better, they see beyond those initial impressions to the real person underneath. Each of them is burdened by the past, and eventually they see their own pain reflected in each other. It's a depth of characterization that makes for a satisfying romance.
I will say this story may not be for readers who like lots of authentic details and atmosphere in their historical novels. The author presents nineteenth century England as an essentially classless society where sergeants move in the same circles as captains and duchesses hang out in kitchens. Despite its light-on-history feel, though, I enjoyed the story for its own sake. Nor had I read other books in the Pennyroyal Green series—this is the ninth one—but I never felt confused or left behind. The author often refers to the stories of other characters, but she gives enough detail that I don't think familiarity with the previous books is necessary for the enjoyment of this one.
Overall, this is a fun, absorbing read that presents a lovable heroine and a sigh-worthy hero. I think any historical fan will enjoy it.
Editor's note:
This article was originally published at Long and Short Reviews. It has been republished with permission. Like what you read? Subscribe to the
SFRB's free daily email notice so you can be up-to-date on our latest articles. Scroll up this page to the sign-up field on your right.