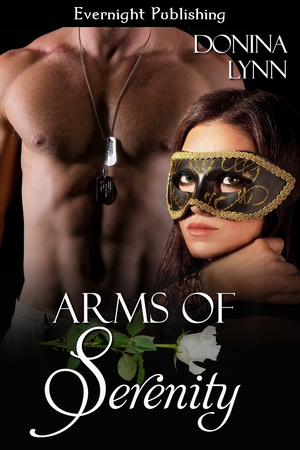 Six years ago Becca Klayton was in a car accident with her parents. Her father was killed, and her mother seriously injured. Becca lost the baby she didn't even know she'd been pregnant with. Nothing has been the same for her since. Nicholas Hollsten has inherited his father's business – but the office is as cold and emotionally bare as the man himself had been. Both Nicholas and Becca attend the same wedding reception (a Masquerade party) and the sparks fly immediately. A night of passion follows and despite their vow for it to be just the one night, as always there are repercussions in the morning. Added on to this, Nicholas' side job as a security specialist for a very special firm have their first job from a CIA contact. Nicholas and Becca both have their plates full, and despite their struggles, they soon discover one night just can't be enough.
This is a well written and very well paced full length novel. It took me a few pages to really get into Becca and Nicholas' characters, but once the author hooked me on each of their situations I couldn't read this fast enough. I greatly enjoyed how the author has fleshed out the main characters properly. I feel the author has gone to great lengths to make both Becca and Nicholas deep, complex and interesting characters. With a strong supporting cast (and what I feel is a few hooks into future books, Tank in particular interested me greatly…) I found this to be a really engrossing story, one you can't just pick up and put down, but need to dedicate time to really enjoy.
There were a few really steamy sex scenes. While I wouldn't classify it as erotica, it is detailed and nothing is held back. Romance readers who prefer their action sweet or behind closed doors might want to be cautious here. Even though I found the scenes graphic, I thought they were really sexy, tasteful and not at all outrageous. I was a little disappointed though with Becca's about-face after the initial sex scene. I never really fully understood why Becca was perfectly content to be with Nicholas as a no-strings one night stand, but was so judgmental the next morning. She took one look at him and based on his appearance, his expensive, cashmere sweater (and admittedly his swagger) and decided that he was everything she hated in a man. Their sex the previous evening, the intimacies and discussions they'd shared – even the man Nicholas had shown himself to be sharing the rooftop garden and himself – was all forgotten in the blink of an eye. This really upset me as a reader, and made me strongly dislike Becca for a while.
I realise that there needs to be conflict and tension between the hero and heroine, and aside from this one (albeit large) character flaw shown in Becca, I liked seeing them try to come to terms with each other and their attraction. One of the things I really enjoyed throughout the book was the fact that the plot and the romance each take equal amounts of the story itself. This isn't a romance with a throw-away plot added in for form's sake. Nor did I find this a thriller/mystery book with a brief, hasty "romance" to appeal to the women readers. I feel the author has done a great job to balance the two out. The secondary characters also weren't just thrown in to flesh out Becca and Nicholas. I'm quite intrigued by many of them and hope to read more of them soon.
Strong, complex characters and an interesting plot, plenty of spicy romance and a great side-plot with a hint of ex-Army men, there's an awful lot to like in this book. Other than a few blips I greatly enjoyed this full length novel and can recommend it for many other readers.
Editor's note:
This article was originally published at Long and Short Reviews. It has been republished with permission. Like what you read? Subscribe to the
SFRB's free daily email notice so you can be up-to-date on our latest articles. Scroll up this page to the sign-up field on your right.