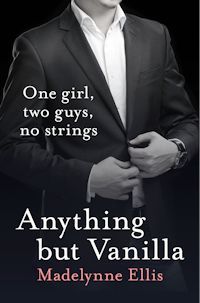 Two's a crowd and three is company, company of the steamy, sexy sort if you happen to be on Liddell Island.
Kara has just untangled herself from a messy, controlling relationship that was about to result in a messy, controlling marriage. Jobless and homeless she finds herself on Liddell Island ready to housesit her jet-setting brother's new home. She soon bumps into Ric Liddell, who comes complete with fort as well as island, and she is mesmerized by his photographic skills, his sexy go-for-it demeanour and the mysteries that surround him and his 'friend' Zach.
I devoured Anything But Vanilla. I didn't just like it, I LOVED it! This was my first book my Ms Ellis and it will not be my last. After the first chapter I punched the air in joy. It has been a long time since I'd read seriously good erotica, there have been more books that I can count deleted from my Kindle because every Tom, Dick and Harry is having a go at it and I can't get past a few pages. Well let me tell you, this book is written by a talented professional.
The first chapter pulled me in, and exactly how an erotic novel should begin, it showed our heroine, Kara having a sexual encounter that is momentous for her sex life. Having just broken up from the evil Gavin, the stranger she pulls in the night club allows her to free herself and let loose the lust that's been harnessed for so long. It's a great beginning and the heat and twists and turns in the plot just keep coming and coming and coming.
There are two heroes, Ric and Zach, and I fell for them both. Each are different, and not just in their physical descriptions but in their personalities, their fears, their passion. Like Kara I would not have been able to choose between these two hotties.
The setting, Liddell Island, also captivated me. I could see it clearly in my mind's eye. The fort, the cliffs, the causeway that blocked it off from the mainland when the tide came in. The author completely transported me there, and like a good book should achieve I was submerged in the landscape and the sights and smell. Oh, and the ice-cream van… I won't spoil it, but I loved the scenes with that.
The sex is hot, yes, but it is also sensitive, wild, risky and in a couple of scenes boundary pushing. I loved being in all three characters heads as they got it together, it made me feel like I was really part of their gang. I'd love to be able to see the pictures Ric took, that would make my day!
As I said, I'll be looking out for more by this author. Her writing is accomplished, her voice fresh and at times raw, and her characters came to life from the page into my mind in a seamless bound. Bravo.
Editor's note:
This article was originally published at Long and Short Reviews. It has been republished with permission. Like what you read? Subscribe to the
SFRB's free daily email notice so you can be up-to-date on our latest articles. Scroll up this page to the sign-up field on your right.