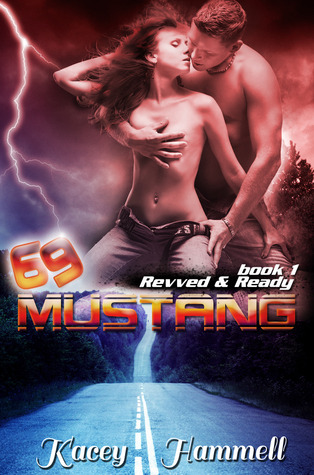 Hayley Fitzgibbon's longtime best friend, Rory, has owned a classic '69 Mustang since his twenty first birthday. They both love the car dearly, how it handles, the sleek sexiness of the body, and especially how it still hums like it was brand new. After both attending Rory's parents' 50th wedding anniversary neither is quite ready to go home, so they drive the "scenic" route and end up at a popular make out place. The '69 mustang works their magic, and soon they're both to determined to move past their friendship and start something wonderful together.
This is one of those glorious short stories about the magic that can happen when two long-time friends move past that barrier and become a romantic partnership without equal. I also like how the author showed us how it wasn't out of the blue. Covert glances, heated stares, lingering touches, this book had all the ear-marks of a wonderful story that showed, not just told. I was a little surprised (and titillated to be honest) how when Hayley and Rory shed their inhibitions they really went all out. There's quite a bit of public displays – those who aren't turned on by exhibitionism might want to give this one a miss – but I found it sexy and very well written. My only disappointment was that their absolute lack of regard for where they were (and the potential consequences should they be seen/caught) had me question their sanity more than I'd have liked. My own reality check distracted me somewhat from the heat of the fantasy. I'm not sure why I wasn't into the scene enough to not care about what might occur, but I found it somewhat unrealistic that neither of them were at all worried about being seen, about someone else coming along or about potential ramifications of their actions.
Having said all that, I found this is a smoking hot book with caring, wonderful characters and a lot of pent up, repressed sexuality finally being set free. I greatly enjoyed seeing Hayley and Rory consummate their long standing desire. I especially enjoyed how even after the introduction the author kept the titled car in on the action. It wasn't merely a plot device to snare the reader, but was a proper part throughout the entire story. I thought this was a lovely story – deliciously sexy and really satisfying when Hayley and Rory finally realized how much better "more than friends" could be. Recommended.
Editor's note:
This article was originally published at Long and Short Reviews. It has been republished with permission. Like what you read? Subscribe to the
SFRB's free daily email notice so you can be up-to-date on our latest articles. Scroll up this page to the sign-up field on your right.