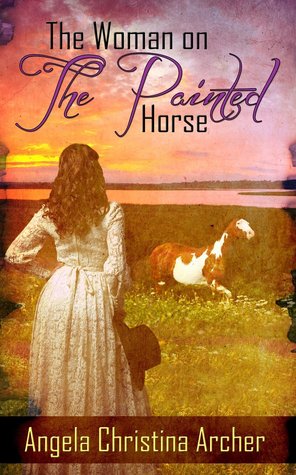 The Woman on the Painted Horse is set in one of the saddest times of United States history, the Civil War. It is a suspenseful, rather cruelly dramatic story that tests the mettle of true love to its limits.
Alexandria Monroe's world is one of privilege in outward appearance. In reality, it is fraught with malicious gossip, horrifying secrets, and clandestine business dealings that are little more than human trafficking for money, position, and power. Alexandria's parents are willing to force her into a loveless marriage in order to maintain their lifestyle.
She is to wed Thomas Ludlow who is from a wealthy family. His actions toward Alexandria are shocking even for the times. His cruel use of his power and position make him an antagonist that is really easy to hate.
William Graysden, a Muscogee Indian, is totally unsuitable for Alexandria to even look at much less find irresistible. Yet, the two of them take one look at each other and make a connection that seems unbreakable. Only in secretive darkness are they able to explore their heartfelt desire for each other. Both ethnic groups oppose their relationship which brings on appallingly cruel treatment.
Alexandria leads a double life that could get her hanged for treason. She helps slaves escape to freedom. There are adrenaline-pumping times in the story that has one reading as fast as she is running with the dogs hot on her heels.
Since the story is told from Alexandria's point of view, the reader gets to see her compassion for the blacks and comes to understand why she feels the way she does. I was horrified by how her unloving mother punished Alexandria by beating Sarah, the black woman who loved and cared for Alexandria. Of course, it did keep Alexandria obedient because she loved Sarah who had always been more of a mother to her than her biological mother.
Ms. Archer gives the reader a hard look at conditions in Montgomery, Alabama during this historical time. The love story threads through the novel, but much of the story is about prejudice and social conditions of the time. To me it would have been more enjoyable if the love story had been developed more. Also, I felt I had missed a chapter between the climax and the time Alexandria, William, and the disenfranchised people they took with them came to settle in Tennessee.
The Woman on the Painted Horse is written in a way that makes it easy to read. It is an attention-keeping, memorable story of racial strife that shows humanity at least than its best.
Editor's note:
This article was originally published at Long and Short Reviews. It has been republished with permission. Like what you read? Subscribe to the
SFRB's free daily email notice so you can be up-to-date on our latest articles. Scroll up this page to the sign-up field on your right.