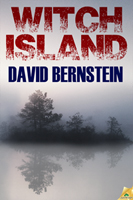 Every community has its share of local legends. Some of them are true while others have been so blown out of proportion over the years that it's nearly impossible to know if anything they claim actually happened. Of course Witch Island must be one of those tall tales. Or is it?
At first I was surprised by how much time Mr. Bernstein spent introducing all of the characters and explaining how the legend of Witch Island began. Many horror novels leap into the action almost immediately. Once the plot thickened, though, I appreciated all of the information that had been provided about the identity of the witch and the types of people who were about to visit her island. It was easier to keep track of such a large cast of characters given how much I knew about what their lives had been like before they decided to camp out in such a haunted place.
While all of the main characters had well-developed backstories, I would have liked to get to know their personalities better. Their childhood experiences were interesting, but for most of them I never quite found the connection between those memories and their current behavior. This is a strongly plot-based tale, so I wouldn't expect it to spend as much time on character development as it did on pushing forward to the next scene. It still would have been helpful to have a better sense of who works well under pressure or has a tendency to be too trusting though.
The horror elements of this story take a while to show up, but once they do they're much stronger than the science fiction elements. There are some genuinely frightening scenes in here that I'm very glad I didn't try to read after dark or while on a camping trip. It certainly would have been scary to encounter those scenes while listening to all of the unfamiliar nighttime calls in the woods, but I don't think I would have gotten any sleep had I tried to do that!
I'd recommend Witch Island to anyone who is a fan of the gorier side of these genres. It is full of the viscerally terrifying kinds of scenes that work so well in this kind of horror.
Editor's note:
This article was originally published at Long and Short Reviews. It has been republished with permission. Like what you read? Subscribe to the
SFRB's free daily email notice so you can be up-to-date on our latest articles. Scroll up this page to the sign-up field on your right.