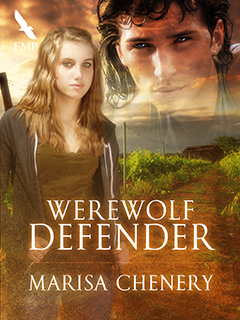 Jerrica's destiny has always been set in stone, but that doesn't mean she accepts it happily. If only there were an alternative to marrying young and quickly getting pregnant.
One of the things I enjoy the most about zombie stories is seeing how the characters adjust to living with such a dangerous threat. Ms. Chenery's approach to this topic was unique given that no one in Jerrica's village can remember what life was like before the zombie invasion. It's such a normal part of their existence that these characters are accustomed to things that I would find pretty scary in real life. Comparing their reactions to how I imagine I'd would approach certain situations was quite fascinating.
I would have liked to get to know Jerrica better. So much time was spent focusing on the romantic elements of the plot that I had trouble getting to know her as an individual. After finishing the last chapter, I'd still be hard-pressed to describe her personality or list her interests outside of her relationship with Calan. The passages that are dedicated to her interest in archery are intriguing, and I would have really enjoyed it if they could have been expanded.
The descriptions of the village where everyone lives made me want to learn more about it. Growing up in such a rigid society can feel stifling under the best circumstances, but what makes Jerrica's situation unique is that she knows she'll never be able to move away due to how dangerous it is in the outside world. I was even more intrigued by the rationale her parents and the other adults use for all of the rules they've created. I sympathized with their points of view almost as much as I did with the main character.
This book would have benefitted from another round of editing. There were multiple instances of run-on sentences and punctuation errors. While I generally understood what the sentences were trying to say, it was distracting to pause and figure so many of them out.
It took some time to figure out the most appropriate age recommendation. Jerrica is 18 when the plot begins, but she comes across as someone several years younger than her chronological age. Her innocent reactions to the opposite sex in particular felt like they belonged to someone in her early teens. There are some violent scenes, though, and the inclusion of them makes this book a better choice for high school aged readers.
I'd recommend Werewolf Defender to anyone who enjoys paranormal romance novels. This is a good introduction to that genre for young adult readers.
Editor's note:
This article was originally published at Long and Short Reviews. It has been republished with permission. Like what you read? Subscribe to the
SFRB's free daily email notice so you can be up-to-date on our latest articles. Scroll up this page to the sign-up field on your right.