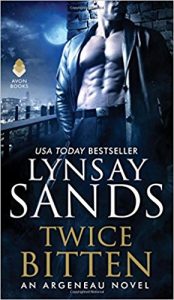 Have you ever heard of 'helicopter parenting'? Where a kid's life is micromanaged? I'd heard of the term but I had to look it up. I've come to the conclusion that it's a bonafide conflict and it plays an important role in this novel. Almost all the Argeneaus I've met have been wonderful, exciting and fascinating people to read about. In Twice Bitten, Ms. Sands introduced me to someone that is also interesting but for all the wrong reasons.
Elspeth is a heroine in need of saving. She doesn't think so. I didn't think so either, until the hero, Wyatt, came upon the scene. Since a reader is gifted with both Elspeth and Wyatt's points of view, it becomes quickly apparent that something is a bit off. But what could it be? How could it happen?
If a reader checked out the synopsis, they'll have an idea but the explanation, the reality of what is going on, is shocking. Frankly, I was horrified. Elspeth's two sisters, The Boobsy Twins, first come across like Cinderella's wicked stepsisters. For a lot of the book, I did not like them until one pivotal scene shed some light on their true natures. I really didn't expect that. At. All. I think every one of them was in some kind of survival mode. What a way to live!
As for Wyatt – he's a very confused hero. He can't help but wonder what is going on with Elspeth. Slowly but surely he is eventually introduced to the reality that not only do Immortals exist, but Elspeth is one of them. The process from unknowing to knowing is one of the best parts of the book because so much happens to get him there. At times it's funny, certainly entertaining, it's sexy and hopeful. However, there are times where I got chills up my spine. The good thing about Wyatt? He's solid hero material. Sure, he seems to take things in stride a little too easily, a bit too accepting and takes to hanging out with Immortals like a duck to water. That kind of blew my mind because you wouldn't catch ME being able to have that level of laissez-faire when presented with people who have fangs. Maybe it's because Wyatt had a military background? No matter, he's sexy, yummy and perfect for Elspeth.
There is a lot to like in this novel. There is also a great deal of depth, suspenseful situations and rioting emotions that help create an amazing stage on which the romance between Elspeth and Wyatt plays out. I know that the story references Elspeth's appearances in past books in the series, but it was hazy at best for me. I almost want to say this could be a standalone read, but perhaps not as once again the community that is the Argeneau family comes together to assist in fixing the debacle that surrounds Elspeth. I like it when the family members pitch in to support the current hero and heroine in their time of need. It's a great feeling.
Seriously, I enjoyed every moment of Twice Bitten and the happy ever after is smile-worthy. The wrap up was wonderful on many levels. It had me giggling and happy and I am ever so glad to hear the news that was imparted by a 'relative' of Elspeth's. There is hope for a bigger HEA for all involved; it'll just take some time. The most important joy comes from Elspeth and Wyatt finally getting to stay together, forever. It's the perfect romantic ending. Fans of this series are in for another great read and a treat when they dive into their own copy of Twice Bitten. Ms. Sands rocks!
Editor's note:
This article was originally published at Long and Short Reviews. It has been republished with permission. Like what you read? Subscribe to the
SFRB's free daily email notice so you can be up-to-date on our latest articles. Scroll up this page to the sign-up field on your right.