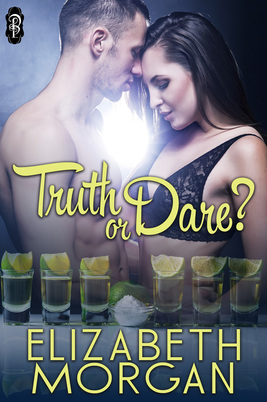 Dani has just moved into a new place and, despite her best intentions, is thrown a housewarming party. Her friends invited every one of her neighbors, but it's Cameron who lingers long after they've all gone back home. With a tempting bottle of tequila, a devilish smile and a naughty suggestion for a quick game of truth or dare, Dani finds herself figuratively backed into a corner. When the dares become raunchy Dani realizes there's a few truths she's been hiding from herself.
While I enjoyed reading this fun short story I was a little disappointed with the predictability of the storyline. The author does an awesome job introducing the four main characters, and gives particularly vivid descriptions of Dani and Cameron, but I found it hard to get overly involved as the story didn't have a new twist or edge to it. Truth and Dare is a common enough plot and the addition of Tequila helps make the entertainment more adult, but no more exotic.
I was pleased with the culmination between Dani and Cameron's. The sex was scorching hot and quite erotic, but I couldn't help but feel some of the chemistry between them – that "zap" of electricity – felt lacking to me. I was in no doubt that Dani and Cameron lusted after each other, but Dani spent so much time expressing her insecurities – and Cameron had to repeat multiple times the seriousness of his affection for her that both seemed forced, or false. They spent so long discussing it and not enough time showing it – with tender touches or other actions outside their sexual acts.
Because of this, something about their connection didn't strike me as a long-term thing, that undefinable "something" was missing between them for me. While the story is written as a happily ever after, personally I see it more as a happy for now. Dani and Cameron want each other, and have been denying that for so long their encounter felt to me like it was bound to happen sooner or later. But with that tingle missing I can't help but wonder if the luster of their newfound relationship might fizzle in the longer term.
Despite all this, readers looking for a short story, full of sexy dares and interesting characters should enjoy this for a quick read. If there was a follow up book – perhaps when Dani and Cameron are better settled and maybe revisit the game with a twist – my curiosity, the authors interesting style and my hope for their ending to truly be a good one could easily sway me to try them out again. This is a fun, erotic tale that can happily fill an evening and give satisfaction.
Editor's note:
This article was originally published at Long and Short Reviews. It has been republished with permission. Like what you read? Subscribe to the
SFRB's free daily email notice so you can be up-to-date on our latest articles. Scroll up this page to the sign-up field on your right.