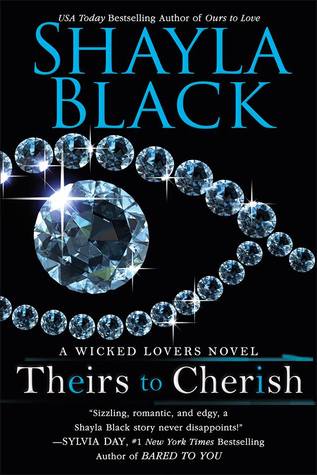 Crime, death and a lot of hot sex! Have I got your attention? Then you should read Theirs to Cherish.
This isn't my first foray into the world of Shayla Black. I've read her other works, but not in this series. That didn't detract from my enjoyment with this book. It sizzles with sexual tension and the writing crackles. I needed to know what would happen next.
Like I said, I haven't read the others in this series, but I didn't think that was a problem. The characters were described well enough and the story solid enough for me to keep up. That said, there were moments I skimmed through pages, needing more action. The story isn't boring, but the pacing could've been ramped up a bit.
So who are the players? Thorpe is the head Dom of Club Domination. He's a tough guy and isn't terribly easy to understand. I got that he was uber alpha, but there were moments I wished he'd have cracked a bit. He's got a back story I won't divulge and it's heady. It's hardened him. I liked that he was crusted over, but I had a very hard time liking him. He came across, as the heroine says, like a caveman.
Then there's Sean. He's the Dom Callie ends up with at the end of the previous book. He's multi-dimensional, but also hard to love. I wanted to like him earlier on and I'm glad I kept reading to find out his secrets. The one thing that drove me crazy about him and Thorpe was the drive. I liked that they had to learn to get along, but the conversation was stilted in spots and didn't seem terribly masculine. Do guys really talk about their emotions that much?
Callie is a conundrum, too. She's not just a bratty sub – and she's very bratty – she's also a on the run heiress. I get this is fiction and she's going to be a tad larger than life, but I had a hard time connecting with her. Many times I thought she would zig and instead she zagged. Her dialogue comes across bubbly at times and whiny at others. I really wanted to like her and root for her, but I ended up putting the book down more often than not.
Now don't get me wrong. I didn't dislike this book. There were hot scenes throughout. The sex sizzles and you'll want something cold by the time the book is over and the mystery itself was strong.
If you want a menage story with a BDSM twist and mystery to boot, then this might be the book for you.
Editor's note:
This article was originally published at Long and Short Reviews. It has been republished with permission. Like what you read? Subscribe to the
SFRB's free daily email notice so you can be up-to-date on our latest articles. Scroll up this page to the sign-up field on your right.