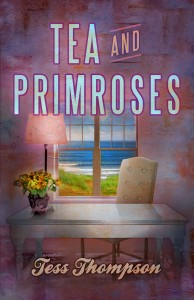 Tea and Primroses offers two stories in one!
The book starts with Sutton, who's already struggling with some tough decisions, finding out her mother was killed in a hit-and-run that doesn't exactly appear to be an accident… and in desperate need, she calls out silently for her best friend from childhood (and the man she fell in love with), Declan.
Interestingly, he hears her…. sort of. Apparently, he's always been able to tell when she's in trouble and so, despite the fact she destroyed his heart several years back when she wouldn't marry him, he hurries to her side and makes it in time for her mother's memorial. And thus begins the real story.
This book was told in real time, and then again in flashbacks of a sort. Sutton's mother, an author, wrote a book about a year of her life that she's never spoken about. A year when she fell madly in love with a married man, and then had her heart broken. The ramifications from those actions reflect throughout her life.
This is less a real mystery than it is a story about chances and choices. It's loaded with descriptive narrative which can sometimes slow the pace, and many things that are meant to by symbolic, which if you're not into "deeper" stories may not appeal.
There's never any doubt that Sutton and Declan love each other, and I still don't completely understand why she wouldn't marry him. She had reasons, which clearly made sense to her, but I found them less than believable. I also found her choice to become engaged to the exceptionally strange man she chooses equally difficult to believe.
The secondary characters here are very well rounded and interesting. I loved how they weren't any of them perfect, but so very real. I've also discovered this book is part of a series, but it stands alone perfectly well.
I did enjoy the journey of discovery Sutton takes and watching her slowly become the person her mother (and Declan, for that matter) always believed she could be touched my heart. And ultimately, that's the strength of this story. It broke my heart that her mother died before she could tell her the story in person, and that she had given up so much happiness because of the past.
Overall, this was a sweet, touching story. Again, the mystery isn't really one (I have to admit to being surprised no one picked up on the link between so many deaths in a small town, despite the years between them) and knowing "whodunit" was not difficult to figure. That's not why you read this.
You read Tea and Primroses to have your heart sigh a bit at how life throws people curves, and how we can build ourselves back up when we're knocked down, especially when we have people in our lives who love us. That's its strength.
Editor's note:
This article was originally published at Long and Short Reviews. It has been republished with permission. Like what you read? Subscribe to the
SFRB's free daily email notice so you can be up-to-date on our latest articles. Scroll up this page to the sign-up field on your right.