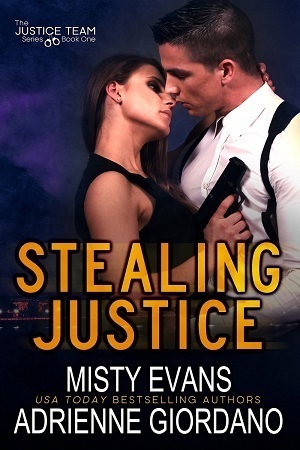 Definitely exciting and steamy, Stealing Justice was a heart-poundingly good read.
Justice "Grey" Greystone, formerly of the FBI, is on the trail of a serial killer and finds a connection to Sydney Banfield and her women's shelter. Three of the women killed came from there and that can't be a coincidence.
Sydney is a good person. She's doing everything she can to protect women (and their kids) who've escaped a violent environment, and she's seriously angry when it looks like some of those women have been turned into escorts and then murdered.
I enjoyed this book – it had an engaging plot and was exciting and intriguing. I liked that I wasn't able to figure it all at right off, but kept following clues, just like the protagonists did. The authors did a great job with the actual writing, as well, making it effortless to read. There weren't any odd turns of phrase or overt errors that pulled me out of the story.
The hero and heroine were well drawn, too, with powerful and mostly believable backstory. Both wounded, but strong and loyal. Despite Sydney's reticence to become emotionally involved with anyone, Grey gets under her skin. I do think she was a little too aggressive early on with their physical relationship, and I found that a bit off-putting, but once they got to know each other better, the steamy side of this novel was thoroughly engaging. I honestly had some trouble with Sydney in the beginning overall – she's pushy and sometimes irritating. I was a little surprised Grey was attracted to her in any way but physically (they're forced into a kiss immediately after they meet, so the physical was evident from the start) because she's pretty rude and obnoxious.
I loved Grey from the start, though, so stuck with the story even when I wasn't in love with the heroine. I'm so glad I did, since things eventually smoothed out a bit with her as she became more trusting. And by the end, I was utterly on her side.
Overall, Stealing Justice was a solid start to what appears to be a new series. I enjoyed it, loved the authors' voices and would gladly pick up another book.
Editor's note:
This article was originally published at Long and Short Reviews. It has been republished with permission. Like what you read? Subscribe to the
SFRB's free daily email notice so you can be up-to-date on our latest articles. Scroll up this page to the sign-up field on your right.