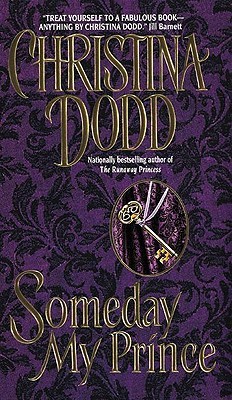 Talk about second chances. Someday My Prince succeeds in doing the impossible.
If a reader has already tackled The Runaway Princess they'll have an idea by now as to why I mentioned 'impossible'. Dom wasn't exactly a nice guy in the previous book. He was a villainous character but what he really was and is, is an anti-hero. I saw hints of personality quirks that hinted at something that could be redeemed. In Someday My Prince Ms. Dodd took those little flickers of goodness and used some rather impressive bellows to fan the flames of decency, creating a hero worth checking out in this novel.
It's hard to banish the past, either from a reader's mind or even from Dom's own point of view. Yet Ms. Dodd presented enough proof for me to believe the hero could be a better man, a happier man, with the right incentive. That incentive comes in the form of Princess Laurentia. She's got teeth, an attitude and a lot of secrets. She alternates from being feisty, temperamental, innocent, brave, conniving, trusting and adventurous. Basically, she's the kind of woman who wouldn't bore a man like Dom but keep him on his toes and wouldn't let him run roughshod over her. He tries because after all he's a mercenary, and like he tells everyone, a bastard. Acts like it at times too. I appreciated the fact that he didn't completely act like a total loser – he has in inner code of honor- rusted to be sure but it's there. The odd thing is his tenacity and his ability to rationalize errant behavior with honor. I'm not sure if I would buy that story if it were me instead of Laurentia. I'm almost sure I would have used the gun in a different manner. The heroine is made of sterner backbone than me.
The plot was interesting and I liked seeing two kingdoms duking it out. I figured out who the traitor might be only because of the extreme stiffness of the character. It was like watching a prune with legs. As for the top villain, a reader is told he's bad and there are brief glimpses that lend credence to the claim but nothing that made me gasp or shiver or worry. Dom is such a wounded bear anyway so I knew he was going to trounce someone at some point. As for resolving the overall conflict, it was a bit too simple for any reader who thrives on details and suspense to appreciate. The story used the background conflict to further the romance between Dom and Laurentia and caused bumps, trials and tribulations for them to navigate so readers could see their relationship grow. It was entertaining but nothing spectacular.
The happy ever after was satisfactory. The true heroes and heroines of the kingdom were recognized and it was nice to see. Laurentia and Dom's finally coming together isn't sweet, sappy or boring. It's fraught with emotional passion right up until the end, which is on par for those two. I believe they will be happy and Dom will finally know peace and acceptance. After reading the book, it's a beautiful hope and I felt good about that.
Someday My Prince is a nice sequel and it tied up all its loose ends completely. I think the heroine was the right type of woman for the hero and their relationship sure wasn't dull. This novel entertained me and I felt it worth my time. It's not quite as frenetic as the previous book but it's meaty just the same. I think it has much to offer readers, especially those who like to see bad boys finding their redemption. Dom isn't cured of being bad, but now he's bad for all the right reasons. That's good enough for me.
Editor's note:
This article was originally published at Long and Short Reviews. It has been republished with permission. Like what you read? Subscribe to the
SFRB's free daily email notice so you can be up-to-date on our latest articles. Scroll up this page to the sign-up field on your right.