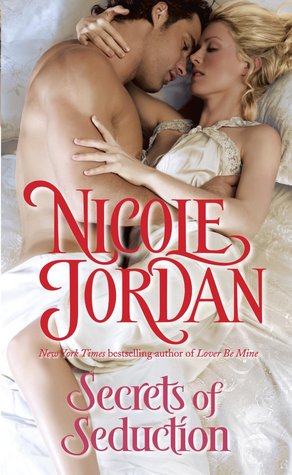 She's going to get her man and she's going to get him good–or bad. Doesn't matter as long as he's hers.
This is my first book by Nicole Jordan, but it won't be my last. The characters were engaging and interesting. Many had flaws and were easy to relate to. The writing is mostly crisp, although there were some moments of telling and not showing me the story. At times I felt like I was right there with the characters and other times not.
I've said the characters were interesting. They were. Lady Skye is unique. She knows what she wants and isn't afraid to get it. I liked that. Some of her methods were a tad…pushy. Actually, she was really pushy. I liked her, but there were moments I thought she over-stepped her boundaries. When she wanted something she got a tad abrasive. Now, that's not to say she's a bad character. She just knows how to get what she wants.
Then there's Hawk. The guy is battered material. He's been through the wringer. His wife and two-year-old boy were killed in a fire and he couldn't save them. Talk about a downer! So he's got a lot of pent up depression. I kind of liked his brooding quality–he had a good reason to be upset. What irked me about him was as much as he's supposed to be this strong, commanding guy, he pretty much let Skye walk all over him in order to get what she wanted. He could get terse with her, but at the same time, he didn't mean much of it.
Now, that sounds like I wasn't thrilled with this book. I did like it. And the side story with Rachel, Daphne and Cornelius was great. I would enjoy reading more about them. I also did enjoy the way this story progressed. I hated having to walk away from the book and even though the characters irritated me, they got under my skin and I was thoroughly engaged. I thought about them long after I closed the book. That's a sign I was hooked.
If you want a book with a little pluck, a little spice, and a handsome Lord, then this might be the book for you.
Editor's note:
This article was originally published at Long and Short Reviews. It has been republished with permission. Like what you read? Subscribe to the
SFRB's free daily email notice so you can be up-to-date on our latest articles. Scroll up this page to the sign-up field on your right.