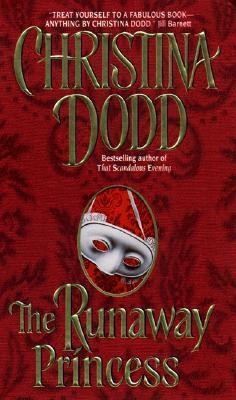 Sometimes I hanker after a story about an arrogant, self-assured prince, castles and long ago told prophecies. In The Runaway Princess, the prince finds a woman that thwarts him, astounds him and simply does not conform to what he perceives a princess to be. He's so sure she's lying. He's so sure he knows best. This tale is appealing because Prince Danior learns a thing or two of what being a real hero is all about. Evangeline beguiles him and seduces him by just being herself; and I enjoyed myself all the way through.
The heroine is quite the little escape artist. She's well read, has lofty dreams and a pure heart. She's also stubborn to a fault. I liked her character but I was shocked as to how she could conceive action from reading. If only I could do that. Then again, some of the things she did would make me cower in a corner and suck my thumb. Danior has his hands full. Since he's so full of himself, Evangeline is the perfect partner for him. She knows how to use a well-placed knee and not afraid to do it. I chuckled quite a few times from her cheeky escapades.
Absolutely, Danior annoyed me. Any man would who was so commanding, autocratic and self-assured to the point of arrogance. However, give the hero his due, he shoulders a huge responsibility and his willingness to shoulder even more is a daunting task and worthy of respect. The extent to which the heroine messes with his intent was comical. She even tells him the truth, repeatedly, continually. What a stubborn man. He tried so hard to remain unaffected so it was doubly pleasing when he finally let loose. Oh, he has his misguided internal angst to deal with but eventually he figures things out and his ultimate decision was oh so very romantic.
Even though this book is tagged as paranormal, it's not in the form of the latest fashion. It's more a spiritual woo-woo with a bit of magic. A reader will put the clues together and figure out who is who long before the hero and heroine do. The thing is, I enjoyed seeing the 'how' of it and despite suspecting the big reveal, I was entertained and charmed by how the author chose to have things happen.
As far as villains, I was surprised. I really thought I knew who was bad. I had my own bit of arrogance thrown back at me when the truth was revealed. Actually, Evangeline and I were both duped. I liked that. What I find astounding is that one of the villains actually has his own story! I liked The Runaway Princess enough to wonder if this was the only book or if this was a series. Imagine my delight when I found that there was one more. Imagine my shock when I discovered who it was about. I'm buying it.
Even though I thought that it was impossible to put the written word into immediate unrehearsed action, I don't fault the writing too hard for doing that because it provided some greatly entertaining scenes and plot shifts. Did I think the heroine went one episode too far? Yes, I did. But the results of its occurrence can't be disputed as being pivotal, so I have to bow to the author's fantastical suspension of logic. This book aims to entertain, and it does.
The Runaway Princess is fun, especially for a reader who likes to see a haughty royal getting humbled by love. It's entertaining and a well told story. I only wished there was an epilogue because I would have enjoyed seeing if they had a boy or a girl. Because Danior and Evangeline were a cute couple, I would have liked to have seen the two as parents in the future. In any event, I think historical fantasy readers might like them too. It's worth checking out.
Editor's note:
This article was originally published at Long and Short Reviews. It has been republished with permission. Like what you read? Subscribe to the
SFRB's free daily email notice so you can be up-to-date on our latest articles. Scroll up this page to the sign-up field on your right.