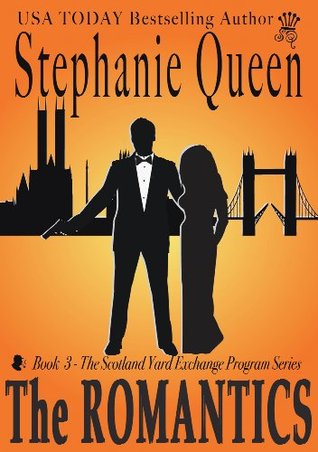 Joe knows romance with Ronnie is a bad idea. Too bad his heart didn't get the message.
Joe thinks his assignment protecting Ronnie will be an easy one. All he has to do is keep the young woman out of trouble. However, Ronnie is a woman on a mission, and she isn't easily sidetracked. Her investigation has made her the target of some nefarious characters willing to do anything to silence her. As Joe and Ronnie struggle with their rapidly growing attraction, danger lurks much closer than they ever imagined.
It is abundantly clear that Joe is smitten by Ronnie from the moment he sees her. I smiled as Joe is struck by Ronnie's beauty and innocence. When Ronnie smiles at him for the first time, his reaction is particularly interesting. "An angel's choir in heaven struck a chord in his veins as if they'd presented him with their most prized gift." While Joe's reaction seems a little over the top, I couldn't help but chuckle as I witnessed Joe fall very hard for Ronnie. The Romantics is filled with amusing banter between Joe and Ronnie as they dance around their feelings for each other. However, I think Joe spends way too much time thinking about how "perfect" Ronnie is. I enjoyed watching Joe fall in love with Ronnie, but his musings over her perfection became much too frequent and lost their emotional impact.
I must admit that I was a little frustrated with the pace of The Romantics at the beginning. The story moved along very slowly, and I was seriously beginning to doubt whether Joe and Ronnie's investigation would actually lead anywhere. My patience was certainly rewarded. When Joe and Ronnie make an important discovery, the pacing really picks up. The last half of the book is very intense and had me on the edge of my seat wondering how the action would all play out.
Some questions remain unanswered at the conclusion of The Romantics, but the ending is still very satisfying. I do think one of the last scenes between Joe and Ronnie was a bit uncomfortable. They have a very emotionally intimate moment that should have occurred in private, but was witnessed by a small group of people. I was unable to enjoy the romance of their moment because I kept thinking about the other people in the room. After everything that Joe and Ronnie have been through, I really think they deserved a moment alone.
Despite my issues, I think The Romantics is a good book. Joe and Ronnie have great chemistry, and the last half of their tale is loaded with suspense. Readers who like a tough hero whose heart melts at the sight of his heroine should check out The Romantics today.
Editor's note:
This article was originally published at Long and Short Reviews. It has been republished with permission. Like what you read? Subscribe to the
SFRB's free daily email notice so you can be up-to-date on our latest articles. Scroll up this page to the sign-up field on your right.