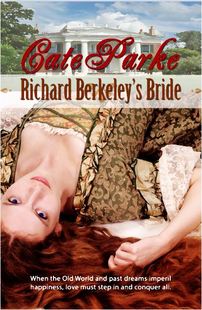 Can Alexandra spend a lifetime with a man she's only known for two weeks?
Alexandra's situation is definitely difficult. Not only is she abruptly called back to the colonies, but she learns she is to marry a man she knows nothing about. Even worse, she barely has any time to get to know him. Her trepidation at the thought of marrying a complete stranger is completely understandable, and I truly felt sorry for her. Fortunately, Richard is a kind and intelligent man. The chemistry between Richard and Alexandra is palpable from the moment they meet, but is chemistry enough to build a successful and happy marriage?
Alexandra is an interesting woman. She is smart, beautiful, and very well educated. Alexandra is very charming, and almost everyone seems to admire her. I found it interesting that Alexandra could be so outspoken about some of her more unconventional beliefs to those in her social circle. However, she was unable to express even her simplest feelings to Richard. Granted, they had a short time to get to know each other before they were married, but he is very gentle with her and gives her many opportunities to speak her mind.
Alexandra is the chief obstacle to her own unhappiness. At first, Richard gave Alexandra ample opportunities to express her thoughts and feelings to him, but she failed time after time to take advantage of these chances. Instead, she kept everything inside and insisted to everyone else that she was fine. Then she was surprised when Richard didn't understand why she was unhappy. Alexandra is surrounded by people who love and respect her, and yet because she refuses to open herself up, she always feels alone. Richard is certainly not innocent of causing difficulties in their marriage. He treats Alexandra like a child many times, which only serves to push her away. It was very difficult for me to watch such a promising relationship slowly deteriorate. At times, I truly doubted whether or not Richard and Alexandra would be able to repair the damage they'd done.
After reading the blurb for Richard Berkeley's Bride, I expected the situation concerning Richard being accused of murder to be a fairly large part of the plot. However, that situation was resolved so quickly that I feel the blurb is misleading. The blurb indicates that there will be some suspense regarding Richard's attempt to prove his innocence, but this is not the case at all. Richard handles the accusations very well, and Lord Graham is nothing more than a minor annoyance who is almost comical in his attempts to disrupt Richard's life.
Despite this issue, I enjoyed reading Richard Berkeley's Bride. Richard and Alexandra make a great couple once they finally take the time to get to know each other. Their happy ending is certainly well deserved. Fans of historical romance might want to give this tale a try.
Editor's note:
This article was originally published at Long and Short Reviews. It has been republished with permission. Like what you read? Subscribe to the
SFRB's free daily email notice so you can be up-to-date on our latest articles. Scroll up this page to the sign-up field on your right.