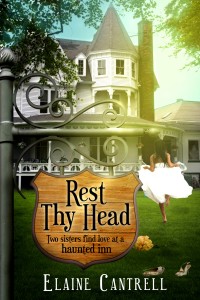 If you're looking for a sweet romance with a touch of mystery, Rest Thy Head might just be the book for you.
Not one, but two romances occur here, which was fun. I really liked Ashley. She's determined and strong (she has to be after her mother all but disowned her for having a child outside of wedlock) and interesting. Peyton took longer to grow on me. At the start she's weak and spineless and lets her mother and fiancé walk all over her and I was so incredibly frustrated with her. Her mother is horrible and I wouldn't have been as forgiving as the sisters were at the end of this book. I found absolutely nothing redeemable about the woman. To be honest, had I not been reading this for review, I might not have continued. However, I'm glad I did.
The story is sweet and romantic if occasionally somewhat predictable. Petyon catches her fiancé in in a compromising position, but it takes more than that before she finally realizes he really is a cad, and runs away. She's supported in this by her sister, and berated by her mother, but she stands by her decision and even finds a job at the inn where she decides to stay for a bit, Rest Thy Head.
There's a lot going on here: a scarred veteran with confidence issues, an ex-fiancé who doesn't want to be an "ex", and even a ghost who is funny, sweet and hands down my favorite character in the book. There's also enough suspense to keep you turning pages.
There were some things in the book that could have been cleaned up and tightened by better editing. Some awkward point-of-view violations and a few instances of narrator intrusion. These are pet peeves of mine, and may not bother another reader. Also, the dialogue didn't always feel natural and, when I read it aloud, was stilted. Still, the author has talent for descriptions (I could see the inn and the setting clearly, as well as the horses, stables and more) and I enjoyed the fact this story didn't rely on sex to drive the romance. The characters had plenty of attraction, certainly, but were allowed to build a foundation of friendship and respect instead of relying on that "zing" to start with and then do the rest in reverse order.
It's a decent story and left me with a smile. Recommended to lovers of sweet romance.
Editor's note:
This article was originally published at Long and Short Reviews. It has been republished with permission. Like what you read? Subscribe to the
SFRB's free daily email notice so you can be up-to-date on our latest articles. Scroll up this page to the sign-up field on your right.