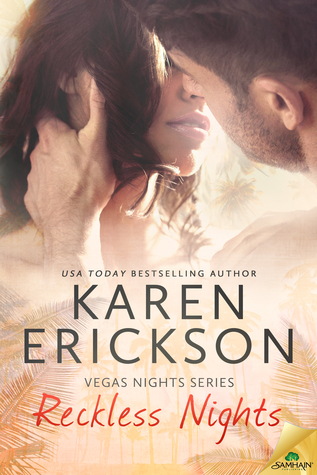 Declan Carter, famous actor, was the man of Regan's dreams. She might be on a flighty holiday weekend in Vegas, but Regan knows the smoldering attraction between herself and Declan can only be a passing fancy. Her real life is the graveyard shift as a nurse and sleeping through the day when everyone else got to live their life. But with a sexy cocktail dress and with some friends at a fancy party, Regan stumbles into Declan and suddenly her Vegas trip is looking far better than she'd believed possible.
This is a fun and steamy story. While the whole "girls weekend at Vegas" and "normal girl meets hot famous guy" angles aren't exactly new, I still found myself interested – both by Regan's character and Declan's lack of arrogance. Declan might be a famous actor, but he's been through a rough patch and so lacks a lot of the arrogant and cocky characteristics similar heroes can be flawed by.
The sex is steamy and I found it really well written. Not flouncy or flowery – but hot and sexy. This definitely isn't a story I'd lend to my mother! For all that though, I didn't find it pushed the envelope, straddling that thin line between erotic and very sensual – and for me personally, it stayed on the line of sensual. The sex is graphic though, and for more pure romance readers it might be a bit too hot.
There's some clear hint-dropping about Regan's two girlfriends. Although the three women came to Vegas together for a girls-weekend all three of them hook up the first evening so there's two other stories loosely linked with this one, but this is easily read as a stand alone novel. My only real complaint was how the plot seemed fairly standard. While I found myself interested in the story itself, it was nothing fresh, new or different. Also, I found myself a little miffed at Regan's reaction to her return to reality. When Regan and Declan parted, Declan had explained he needed a certain amount of time to settle into his new movie role. Before that agreed upon time had passed she was already bitter and writing him off. It soured a lot of my view on her character. Not just because she couldn't be patient, but that he'd been honest and up-front about needing some time, and before those weeks had passed she was impatient and doubting him. It felt a little too much like a forced-upon conflict point (and an unfair one of Regan to make), rather than a natural by-product of a new relationship experiencing issues/strain.
Having said that, I really did find this for the most part as a fun, lighthearted, sexy story well worth my time to read. I enjoyed the author's voice and style, the plot moved along at a decent pace, and you can never really go wrong with a story set in Vegas. Outside of a few issues, I found this to be a great story and a good, solid read.
Editor's note:
This article was originally published at Long and Short Reviews. It has been republished with permission. Like what you read? Subscribe to the
SFRB's free daily email notice so you can be up-to-date on our latest articles. Scroll up this page to the sign-up field on your right.