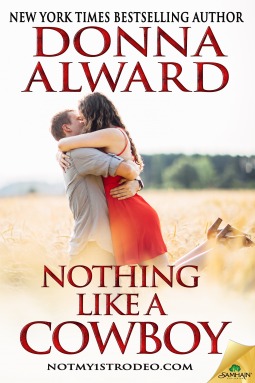 Brett Harrison's pregnant twin sister has signed him up on a dating site, without his knowledge. Equal parts horrified and annoyed, Brett desperately wants to take the profile down, but his first date has already been arranged. Brett can't believe he's been wrestled into a coffee-date, but when he starts to read what Melly had sent "him" he has to be honest, he can't let this woman down. Resigned, Brett decides he can meet Melly, have a cup of coffee and they could both go their separate ways afterwards. Then he could take down his profile and life could revert to normal. Right?
This is a fun, lighthearted story about a previously-burned cowboy and a klutzy, shy English teacher. I really enjoyed the reality of Melly's previous dates – being stood up, not connecting with the men. I also was completely sympathetic with the fact Melly had signed up hoping that "Fun Melly" would come back from wherever she was hiding and was disappointed with how so far she wasn't in sight. I could really empathize with just how hard online dating can be at times. I also enjoyed Brett's character. While initially he seemed more the cookie-cutter kind of cowboy, the author did a great job of infusing his character with small traits that made him stand out more – like holding Melly's seat out for her, or questioning her on why she joined up to the online dating sight. This helped me overall really connect well with both characters and had me liking them from an early stage in the story.
There was a twist in the plot about half way through, that I found fresh and different. My only disappointment from the story was that much of the second half of the book revolved around this twist – a business purchase of Brett's – and complications arising from that. I couldn't help but feel the growth of Brett and Melly's relationship took a bit of a back seat for much of the latter half of the book. Added to that, the conflict, hurt feelings and mis-communications really had me feeling that up until the last two chapters or so that Brett and Melly's relationship hadn't progressed much at all. I didn't feel they trusted each other very much emotionally and they really seemed to have a few major differences still blocking their way. So their reconciliation at the end felt quite rushed. I felt, when told "they both fell in love", the author was needing me to take it on faith that their feelings had deepened and grown as time progressed, as this deepening of emotion wasn't shown but instead skimmed over. A part of me wonders if the author was caught out on a word-limit or something like that, and the plot (which I did find interesting and well written) had taken over much of the growth of the relationship between Brett and Melly. For a romance story I felt this rush at the end really detracted from my enjoyment of the story as a whole, and I was quite saddened by it.
Overall, though, this is a fun and lovely book. I greatly enjoyed Brett and Melly's characters and found them to be not only relatable but also realistic with "normal" flaws – not perfect but real. I also really loved how there was a proper plot, not just a hastily thrown in conflict or silly miscommunication. The plot added to the story, but also helped show more of both Melly and Brett's character, dreams and desires. While I found the ending a bit rushed and I, personally, would have loved to see more of the growing depth to their relationship, this is a solid, well written and emotional read that left me feeling happy and good. A great new author to me, and one I will happily look for again.
Editor's note:
This article was originally published at Long and Short Reviews. It has been republished with permission. Like what you read? Subscribe to the
SFRB's free daily email notice so you can be up-to-date on our latest articles. Scroll up this page to the sign-up field on your right.