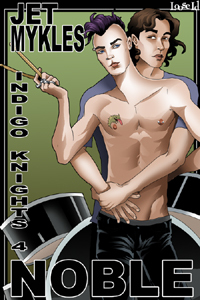 The last single man of the Indigo Knights finally meets his match. Noble is loud, out, and proud. An outgoing socializer, he's happiest surrounded by people before choosing one for a night of fun, commitment free sex. Although he's grateful that his friends found their happy endings, he's pretty sure he's destined for the single life. Until he meets deeply closeted sexy Donny Foxley. Foxy is the new rising star actor attached to a multimillion dollar trilogy. He has a morality clause in his contract that prevents Foxy from coming out and Noble is fine with some no-strings-attached sex. Except Noble likes Foxy in so many dangerous ways. They actually get along well together, laugh, talk, and have a real friendship. Noble knows there can't be more, god forbid love, but sometimes the heart wants what the heart wants.
Noble is the fourth and final book in the Indigo Knights series, which is a branch off series from Heaven Sent. Casual readers can certainly read this as a stand alone but there are so many names and couples included that it might be confusing if they haven't read the entire IK and HS series. I've actually read both series entirely and still couldn't remember all the couples and their details. Since the story does assume the reader knows all that information, I mostly let all the names and couples fly over my head since I couldn't be bothered to go look up which couple was which and what the main details of their story. They're all happy and in gay relationships so anything else is just a gift to the reader who can remember all of it. This time around Noble is the last single man standing and he finds his true love. It's a cute story and one with a ton of sex scenes so I found it lightening fast to read.
The drama is mild and mostly nonexistent. Noble comes across melodramatic and over the top but it's just an excuse to extend the happy ending and create some more tension. It never felt real or a genuine threat to Foxy and Noble. It's clear these two are in love and will live HEA very soon. Like all the other books it's easy reading but the classic rock band antics in the backdrop but this story made a point of including every single couple from both IK and HS repeatedly in the story. I think it is meant to serve as a nice farewell to the two groups and I admit it was charming and enjoyable to remember reading the love stories of so many interesting men. It also made me realize how similar every single couple's story was and only the details about the men changed. Oh well, it's a formula that works and it's used well here.
I don't think Noble is the best book but it's not the worst either. It sits solidly in the middle of the road and works well as a final book. It's very dramatic but more so easy going, a lot of sex, and a swan song to all the great characters over the years. They're all extremely happy, in love, and very successful so hopefully fans of the series will be content with where the characters are left. I certainly am.
Editor's note:
This article was originally published at Long and Short Reviews. It has been republished with permission. Like what you read? Subscribe to the
SFRB's free daily email notice so you can be up-to-date on our latest articles. Scroll up this page to the sign-up field on your right.